The STEM Bridge Camp provides incoming freshmen a jump start into the college lifestyle and science courses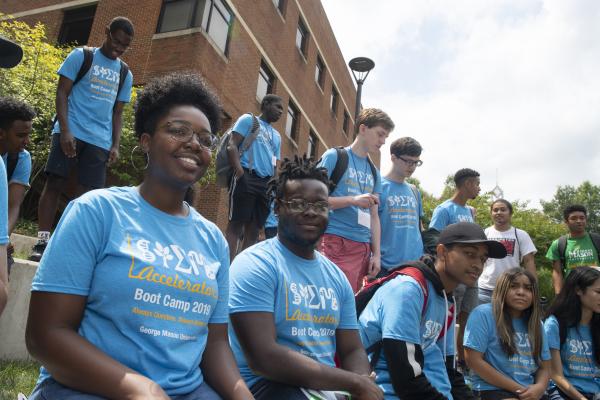 Due to Covid-19, STEM Bridge Camps for 2020 has been canceled. However, you can contact stemcos@gmu.edu if you have interest in preparatory material for the transition into university life and studying STEM.
Before classes start in August, this week-long residential camp welcomes incoming students with lab experiences, exam preparation, and lectures by Mason faculty. Students attend advising and career sessions, while working and living with other Mason STEM accepted freshmen. The Boot Camp has two available tracks: biology/chemistry and math/physical sciences/engineering. Note that these tracks are appropriate for all science, math, and engineering majors, not just those in biology, chemistry, or mathematics.
The camp is residential and students are expected to stay in the dorms during the week. Students that participate in STEM camps are also strongly encouraged to enroll in the associated University Transitions (UNIV 108; 0-1 credit) course for the fall semester. In this course students will continue to work with their camp cohort, and build the skills necessary to effectively transition to university life.
Space is limited so apply early!  Students can take both camps (STEM Bridge Camp and Math Boot Camp) and we have accommodations at Mason for the transition day. Note that there is a single application for both camps.
Dates:
July 26 - 27, 2021 (Bio/Chem)
July 29  - 30, 2021 (Phys/Math/Eng)
Questions? Email: stemcos@gmu.edu
Frequently Asked Questions
Why should I participate in the STEM Boot camp?
The camp gives you an opportunity to experience university life before the semester begins. In addition, you will have the opportunity to preview lecture and lab courses in a smaller class size environment; ideal for getting to know your professors compared to larger lectures.
Where will I stay during the STEM Bridge Camp?
All students who participate in the week-long STEM Bridge Camp will stay in one of the student dorms. Housing will be in double occupancy bedrooms unless otherwise requested. Single bedrooms will cost an additional fee.
Are all meals included?
All meals will be provided for this camp. Several options will be available at each meal for dietary restrictions.
What time will the boot camp begin and end each day?
STEM Bridge Camp schedule coming soon
I was an AP student in high school, would this program benefit me?
Yes. Studies show all types of students have difficulties during their first semester of college, particularly those who are STEM majors. The STEM Bridge Camp will help familiarize yourself with the course structure of lecture and labs and better prepare you for your full courses.
What will the registration fee cover?
Your registration fee covers your one week stay in double occupancy dorm rooms and all meals during the STEM Bridge Camp Mason.
Should I bring bedding for the one-week stay?
Yes, you do need to bring bedding (sheets, blankets, pillows).
How much does the STEM Bridge Camp cost?
Please see the detailed information about camp prices under the camp details or the camp registration site here. 
What is the refund policy?
Full refunds by July 5, 2021 for Math Boot Camp and July 12 for STEM Bridge Camp. Full refunds will also be issued if the camper has a positive COVID test in the 2 weeks leading up to camp. Please contact Julia Nord (stemcos@gmu.edu) for questions regarding refunds.