Faculty & Staff Directory
Kim de Mutsert
Assistant Professor
Associate Director, Potomac Environmental Research and Education Center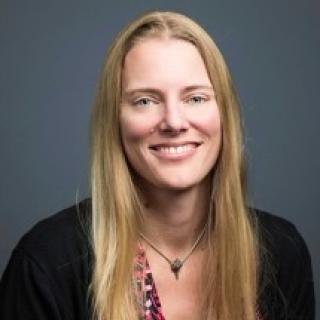 Name

Dr. Kim de Mutsert

Job Title

Assistant Professor

Associate Director, Potomac Environmental Research and Education Center

Website

Email

Phone Number

Office Number

Potomac Science Center, Room 3115, MSN 5F2
Centers
Potomac Environmental Research and Education Center (PEREC)
Research Areas
Applied Science

Aquatic Ecology

Biodiversity

Biology

Conservation

Environmental Science and Policy

Modeling
PhD, Oceanography and Coastal Sciences, Louisiana State University, (2010)
MS, Biology, The University of Amsterdam, (2003)
Kim de Mutsert's research area is coastal and estuarine fish ecology with a focus on developing ecosystem models to inform coastal restoration and fisheries management. She studies the combined effects of environmental and fishing impacts on nekton abundance and biomass, community structure, food web dynamics, and fisheries landings. In her research, she makes use of end-to-end model simulations and large datasets, in combination with field collections and lab studies. She has mostly focused her work in the Gulf of Mexico and its coastal marshes, and the Potomac River and its tributaries. The overarching theme of her research is investigating effects on fish of eutrophication, restoration, pollution, habitat alteration, and changes in policy.

Current projects include:
Simulating effects of hypoxia of fish and fisheries in the Gulf of Mexico
Integrating ecosystem considerations in fisheries management in the Gulf of Mexico
Simulating effects of large river diversions on estuarine nekton in coastal Louisiana
Surveying fish communities in freshwater tidal embayments of the Potomac River that receive treated wastewater effluent
Estimating river herring spawning population size in the Potomac River watershed
Facilitating undergraduate summer research at PEREC
Dr. de Mutsert teaches courses in aquatic ecology and fisheries science. She has more than 8 years of experience teaching and advising students in STEM. Course offerings include:
Freshwater Ecosystems lecture and lab (undergraduate)
The Diversity of Fishes (undergraduate and graduate)
Estuarine and Coastal Ecology lecture and lab (graduate)
Controversy in Fisheries Science (graduate)
Belize course - tropical coastal ecology (undergraduate and graduate)
Dahood, A., Watters, G.M., and K. de Mutsert. 2019. Using sea-ice to calibrate a dynamic trophic model for the Western Antarctic Peninsula. PLoS ONE 14(4): e0214814. https://doi.org/10.1371/journal.pone.0214814.
Adebola, T. and K. de Mutsert. 2019. Spatial simulation of redistribution of fishing effort in Nigerian coastal waters using Ecospace. Ecosphere 10(3): 1-16. https://doi.org/10.1002/ecs2.2623.
Schlick, C. J. C. and K. de Mutsert. 2019. Growth of adult river herring that spawn in tributaries of the Potomac River in Northern Virginia. Fishery Bulletin 117(1-2): 59-69. https://doi.org/10.7755/FB.117.1-2.7.
De Mutsert, K., Lewis, K.A., Milroy, S., Buszowski, J., and J. Steenbeek. 2017. Using ecosystem modeling to evaluate trade-offs in coastal management: effects of large-scale river diversions on fish and fisheries. Ecological Modelling 360:14-26. https://doi.org/10.1016/j.ecolmodel.2017.06.029
De Mutsert, K., Sills, A., Schlick, C.J.C., and R.C. Jones. 2017. Successes of restoration and its effects on the fish community in a freshwater tidal embayment of the Potomac River, USA. Water 9(6), 421. https://doi.org/10.3390/w9060421
The National Academies of Sciences, Engineering and Medicine - Gulf Research Program Early-Career Research Fellowship. 2019.
American Fisheries Society Best Paper Award in Marine and Coastal Fisheries. 2017.
Outstanding Dissertation Award, School of the Coast and Environment, Louisiana State University. 2010.
Kim de Mutsert speaking at NGOMEX Advisory Panel Workshop
Dr. de Mutsert organizes workshops focused on introducing new user tools and training to make ecosystem model output user-friendly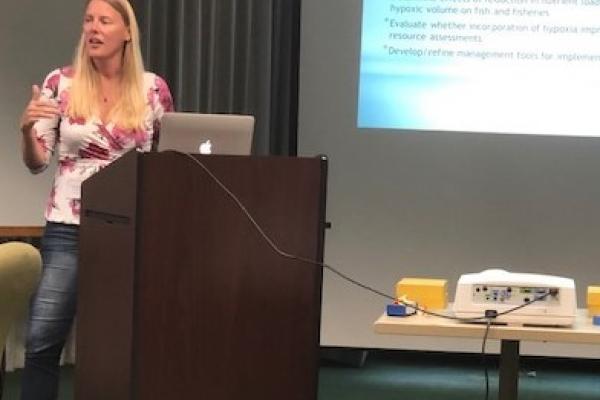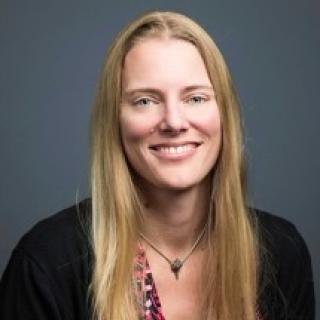 Name

Dr. Kim de Mutsert

Job Title

Assistant Professor

Associate Director, Potomac Environmental Research and Education Center

Website

Email

Phone Number

Office Number

Potomac Science Center, Room 3115, MSN 5F2