This program provides exciting opportunities for students interested in studying advanced mathematics.
The Master of Science in Mathematics addresses the needs of professionals in the Washington, D.C. metropolitan area who are interested in pursuing an advanced degree. We offers a variety of foundational and modern courses, a number of creative component options and flexible schedule suitable for part-time students.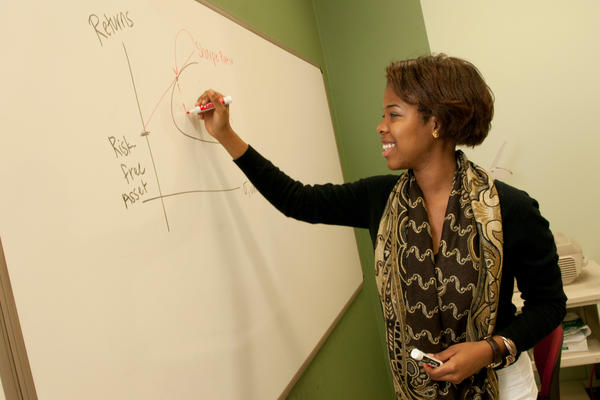 Program Highlights
We have both full-time and part-time students. Many classes are offered in the evening (4:30pm or later) to accommodate students who are working full-time or part-time outside of our program.
The program offers both a standard mathematics track and an emphasis in computational and applied mathematics.
Course Catalog
Review admission and course requirements for this degree:
A mathematics MS degree can help expand your career options and serve as a stepping stone to achieving career goals, be it pursuing a PhD degree or advancing to a new level of industrial employment. Many of our graduates have been admitted to top PhD programs, while others are excelling in their careers as a Data Scientist, Research Mathematician, Actuary, Operations Research Analyst, Data Analytics Expert, Software Developer, Math Teacher, Accountant, Financial Analyst, Web Developer, Statistician, Market Researcher, to name a few examples.
Organizations that typically hire mathematics MS graduates include national and government labs such as NSA, NRL, Naval Warfare Centers, U.S. Army Corps of Engineers, and companies like Facebook, Amazon, U.S. Census Bureau, SAIC, MITRE, Google, TRW, EDS, CIGNA, ANSER, and many others. 
MS students have an option to write a research thesis under the guidance of a faculty mentor, which may lead to a research publication in a scientific journal. Additional opportunities include MEGL research projects during academic year, Industrial Immersion Program (IIP) sponsored projects run in close collaboration with external partners and paid internships in nearby national and government labs and companies. Part-time students may explore fundamental mathematical questions originating in their work-related projects while simultaneously working on satisfying the  creative component for MS degree with their faculty mentor.