Applied and Engineering Physics, MS
Study elements of traditional physics programs and the application of physics to a diversity of critical societal problems in a program compatible with ongoing employment at local high-technology organizations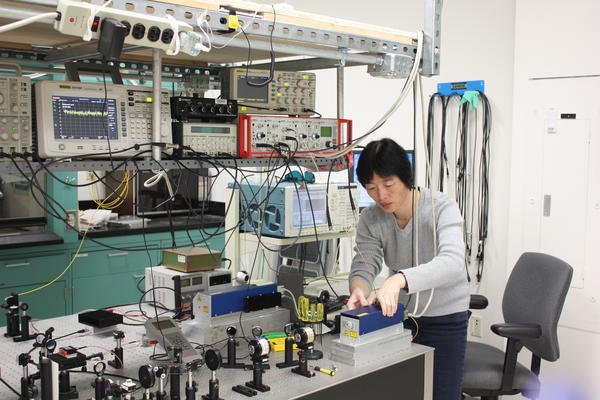 Program Highlights
Choose from three emphases: Standard, Engineering Physics, or Applied Physics. (A concentration in Quantum Information Science and Engineering is coming soon!)
Many courses are offered during late afternoon or evening hours to allow students with full-time employment to easily attend
Students employed at area high-technology organizations may take up to 6 credits (out of 30) for work done on the job under the guidance of a faculty member.
Course Catalog
Review admission and course requirements for this degree:
Admission Requirements
Individuals holding a baccalaureate degree in physics or a related field from a regionally accredited institution and who have earned a GPA of 3.00 (out of 4.00) in their last 60 credits are invited to apply for admission. If the baccalaureate degree is in a field other than physics, applicants should have taken several courses beyond the introductory physics courses, such as junior-level classical mechanics, electricity and magnetism, or electronics. Applicants may be required to make up one or two deficiencies, based on a graduate physics advisor's assessment, and be provisionally admitted into the program. Three letters of recommendation must be submitted, preferably from former professors. The general GRE and the GRE subject test in physics are recommended for applicants who received their baccalaureate degrees within the past five years.
Emphases
Students may elect to complete the degree with one of the emphases below.