Image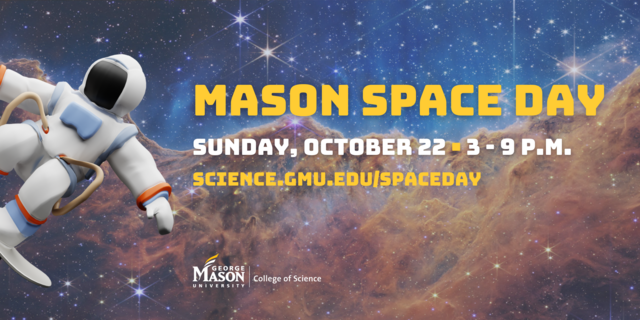 Join us for Mason Space Day 2023
Mason Space Day is an exciting, collaborative, and engaging event, with an aim to educate the public on the technology and science behind some of the leading aerospace projects in the area. The day offers lectures from those at the forefront of space exploration and a number of organizations with hands-on space-related activities, educational information, and more. We look forward to seeing you October 22, 2023 from 3 to 9 p.m. on Mason's Fairfax Campus.
Important information for Mason Space Day
Event speakers
Mason Space Day Speakers
The Honorable Charles F. Bolden Jr.
Major General, United States Marine Corps (Ret.)
12th NASA Administrator
Founder & CEO Emeritus, The Charles F. Bolden Group
Michelle Thaller
Scientist, NASA Goddard Space Flight Center
Steven Dam
President, SPEC Innovations
Robert Weigel
Professor, Physics and Astronomy, George Mason University
George Mason University Expert Panel
Anamaria Berea
Associate Professor, Computational and Data Sciences
College of Science
Piotr Pachowicz
Associate Professor, Electrical and Computer Engineering
College of Computing and Engineering
Donglian Sun
Professor, Geographic and Geoinformation Science
College of Science
Erdal Yigit
Associate Professor, Physics and Astronomy
College of Science
Participating vendors
| | | |
| --- | --- | --- |
| Dark Sky Friends | DarkSky NOVA | SPEC Innovations |
| Planetarium | Mason Observatory | Interstealler Dreams Space Center |
| Weather Club | Planetary Geology | Because Science |
| Chemistry Club | Space Weather Group | Audubon Society |
| Project Caelus | Smithsonian Explainers Program | DCSteakholders |
| Koi Tea | Yummie Food Company (GeDunk Food Truck) | Gringo Gordo (Fresh Connections) |
Locations and parking information
George Mason University
Fairfax VA 22030
General Event Parking is in Mason Pond Parking Deck.  Signs and volunteers will be available to direct you to the event locations. Accessible Parking is available in Lot A, the Mason Pond Parking Deck.
Bus transportation is also available: There is a main bus terminal on campus for the Cue bus system. There are also a couple of Metro bus stops near campus, including the 176, 306, 17G and 29K lines.
Where to eat
Mason Space Day will have Food Trucks available near the main event location for attendees. The Mason Fairfax Campus also offers a number of dining options including Panera Bread, Chipotle, and The Halal Guys.
Food truck vendors include:
DC Steakholders
Gringo Gordo (Fresh Connections)
Koi Tea
Yummie Food Company (GeDunk Food Truck)
Check out Mason's complete list of available dining options. 
Code of conduct
Please treat everyone with respect at all times, and abide by Mason's Physics and Astronomy Department Code of Conduct
Children and minors in attendance:
All minors MUST be accompanied by a parent or legal guardian at all times. Parents: Space Day allows children the opportunity to learn about space in a fun and engaging environment.  Keep your hands to yourself and respect the property of those around you and on the Mason campus.  Remember to have fun.
Thank You to Our Sponsors