2020 Celebration of Success recognizes and shows appreciation of all College of Science faculty and staff
On Tuesday, December 8, Dean Fernando R. Miralles-Wilhelm presented his first Dean's Awards to nine faculty and staff for their service during the 2020 calendar year. In addition, to the many prizes won, 14 staff also received special recognition and ESP faculty Dr. Lee Talbot received the Career Achievement Award.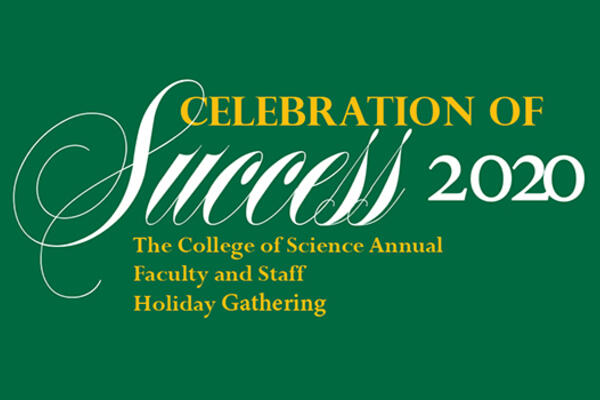 Participate in one or several event activities
Celebration of Success Dean's Awards
Congratulations to this year's recipients of the Celebration of Success Dean's Awards.
Dean's Award for Distinctive Service: Teri Fede, Dean's Administration
Any classified staff member who has demonstrated excellence to students, faculty, and administration in meeting the vision of their home unit and the College of Science. 
Dean's Award for Early Career Excellence: Nirmal Ghimire, Physics and Astronomy
Tenure-track (non-tenured) faculty who have achieved notable success and have increased the profile for their Department and the College. Candidates must show exceptional accomplishment in teaching and/or research, thus clearly establishing themselves as excellent faculty members. While they need not excel in all areas of faculty activity, they should be clearly superior in at least one area and not obviously deficient in any areas. 
Dean's Award for Excellence in Diversity and Inclusion: Kerin Hilker-Balkissoon, Dean's Administration
Awarded to a faculty or staff member who has demonstrated excellence in this area through their teaching, research, community outreach, or other efforts. 
Dean's Big Challenge Award: Aarthi Narayanan, School of Systems Biology, NCBID
Awarded to a faculty member who has best contributed to solving one of the world's big problems. 
Dean's Creative Educator Award: Steve Burmeister, Forensic Science
Candidates should be engaged in efforts in cross-disciplinary education, innovative approaches to education, enrichment of students' educational experience outside the classroom, and the embedding of entrepreneurship as an integral part of students' academic experience. 
Dean's Impact Award: Padhu Seshaiyer, Dean's Administration
Any faculty member who has achieved particular success and has made a notable impact and brought recognition to our College. 
Dean's Outstanding Staff Award: Kamica Wilson, Dean's Administration
The candidate will be recognized for dedication to the well-being and operation of the college and the administrative units thereof. Individuals nominated shall exemplify strong capability, commitment and service to the College and the University community. Specific examples of the outstanding duties performed should be emphasized. 
Dean's Research Scientist Award: Hao Jing, Chemistry and Biochemistry
The award will recognize research excellence evidenced by the discovery of new knowledge as demonstrated by published work in books, journals and leading conferences; invited talks, prizes, inventions, patents and other recognitions; and, as appropriate, the track record of their competitive research funding. 
Dean's Research Support Award: Rachel Pepin, NCBID
Candidates should be actively involved in supporting a solid research program in basic or applied sciences that has gained significant national and international attention. It must be clear that the nominee has made a valuable and innovative contribution to research in the college. 
Career Achievement Award: Lee Talbot, Environmental Science and Policy
Questions? Please contact Teri Fede
Share your college kudos
The College of Science Kudos is an instant way to show appreciation to an individual or team for their contributions to Mason, both inside or outside of their department or unit. We encourage you to take a minute to say thank you to a colleague for an action you believe deserves recognition. Submissions will go on the college's social media accounts. Submit your kudos
College of Science 2020 Kudos
We would like to celebrate our faculty and staff. Without ALL of you our students, programs and research would not be able to succeed. Thank you for all the hard work and perseverance through this pandemic. The following is an ongoing list of kudos:
To: Rebecca Jones--Thank you for your leadership of COS Faculty governance through this pandemic.

To: Lillian Virgil--Lillian is wonderful and deserves recognition for all the many wonderful things she does every day.

To: Ute Shaw--Ute Shaw is a driving force behind the success of the college with her most competent leadership and handling of COS finances.

To: Florencia Guiterrez--Thank you Flo for being such a hard work. Super organized, always a pleasant attitude and willing to help out. All your effort is much appreciated!

To: All mothers with kids at home--A shout out to all the mothers out there, continuing to work and get the job done while ensuring their kids attend school, the
house keeps functioning and everyone stays sane!
You are appreciated!

To: Teri Fede--Thank you for your dedication to the organization and mission of our college. Your excellent communication and responsiveness has enabled
a smooth transition to a new Dean.

To: Maria Walters, Vanna De Angelis, & Stephanie Flores--Dear Maria, Vanna, and Steph, Thank you for the support you have provided each other and your COS colleagues throughout 2020. I really appreciate your caring and resilience.

To: Paul So--Thank you for your leadership of the department through this pandemic.

To: Maria Walters--Thank you Maria Walters for being a wonderful co-worker and a valuable member of our team! Your knowledge and support have been crucial during this challenging year to keep COS operations efficient.

 To: D2 Group--I want to say a huge Thank you to the entire D2 Group for being so welcoming and for creating such a collaborative environment and community!

 To: Jennifer Fraze--Thank you for your consistency and adept handling of the Learning Assistant stipends and RADSS scholarships. I'm grateful for your attention to detail and can-do attitude!

 To: Maria D'Souza--Maria is such a pleasure to work with! She is warm, compassionate, and always willing to
help others.

 To: Ali Andalibi--I would like to recognize Ali Andalibi for his exceptional leadership skills during his time as interim Dean of COS. He has actively drafted a course to increased support for research activities.

 To: Natalie V. Lapidot-Croitoru--Thank you for making sure things get done on time and always asking good questions! You' are great asset to COS

 To: The COS Marketing Team--You are excellent collaborators and implementers, and you turn ideas into possibilities. You are kind under pressure, generous with your time, and approach every request as a partnership. Thank you.

 To: Maryellen Daniels--For her amazing personality, work ethic, attention to detail. Positivity. Amazing colleague and friend. Joy to work with. Thank you for being you!

 To: Cheryl Skolnick--I love having a colleague who goes above and beyond helping with grants and proposals. She patiently finds out answers resolving issues and creating workflow smoothness. I'm honored
to work with her.

 To: The School of Systems Biology Administrative Team--Thank you for the: dedication, dependability, and determination. The team rallies with selfless service for our students and school. I see your true colors shining through. They are beautiful.

 To: Jessica Hanna, Brooke Vaughn, Nathalia Morales, Faith Gaile--Thank you for your stewardship of the department through this pandemic.

 To: Samantha Cooke & Maryellen Daniels--Sam and Emmy have been going above and beyond by advising students and by supporting staff and faculty at GGS. Any question/problem will be addressed within minutes by emailing these two superstars.
Support organizations in our community
Join us this season as we support local organizations in our community. We are partnering with the Mason Staff Senate and encouraging our Patriots to use the contactless and virtual donation options. 
If you would prefer to drop off your donation in-person, please refer to the organization's guidelines for accepting donations. 
Mason's Parking and Transportation Office is offering a citation credit in exchange for charitable contributions made to these organizations. View more details by visiting their holiday donation page. 
College Raffle
The raffle continues. This year, you are able to submit your raffle tickets virtually. As usual, you must be present at the event in order to win a raffle item. Please use the link above to register for the event.
Deadline to choose raffle items is Sunday, December 6 at noon.
Questions? Please contact Carissa Hunter
Book reading
The College of Science will  host a book reading from November 30 to December 4, 2020 as a way of giving back to our College's families and children. We welcome all faculty, and classified and non-student wage staff to participate in either a live or recorded reading session with a children's book of your choice. Books can be from varying genres to include STEM, holiday, seasonal, or general. Each session will be held via Zoom.

Questions? Please contact Caitlyn Ford
Recordings of Book Readings can be found here:
"Max Goes to Jupiter" by J. Bennett, N. Schneider, and E. Ellingson (Read by Erdal Yiğit, Physics and Astronomy)
"Oh, The Places You'll Go" by Dr. Seuss (Read by Caitlyn Ford, Dean's Administration)
"The World Needs Who You Were Made to Be" by Joanna Gaines (Read by Tracy Mason, Marketing and Communications)
"Duck on a Bike" by David Shannon (Read by Natalie Lapidot-Croitoru, Computational and Data Sciences)
"Of Thee I Sing: A Letter to my Daughters" by Barack Obama (Read by Karen Underwood, Computational and Data Sciences)
Door decorating contest
Following this year's theme, " A Few of Our Favorite Things" a number of faculty and staff participated in the 2020 Door Decorating Content. Congratulations to this year's winners!
First Place - Frances Dove, Academic Affairs
Second Place - Kelly Knight, Forensic Science
Third Place (tie) - Caitlyn Ford, Dean's Administration
Third Place (tie) - Ginny Scott, Neuroscience