2021 Celebration of Success recognizes and shows appreciation of all College of Science faculty and staff
On Monday, December 6, Dean Fernando R. Miralles-Wilhelm presented the Dean's Awards to 11 faculty and staff for their service during the 2021 calendar year.  See recipients below.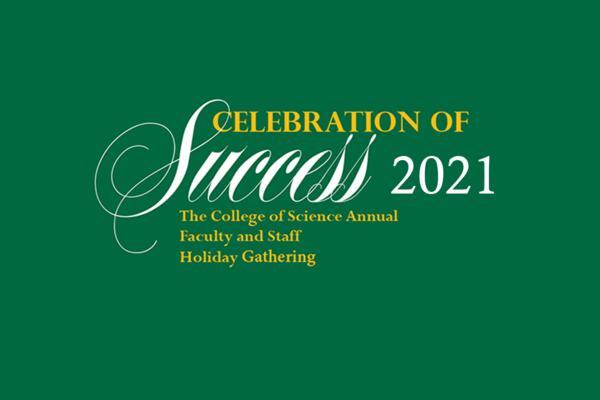 Congratulations to the 2021 Dean's Award recipients
Dean's Award for Distinctive Service: Carissa Hunter, Dean's Administration and Nathalia Morales, Physics and Astronomy
Any classified staff member who has demonstrated excellence to students, faculty, and administration in meeting the vision of their home unit and the College of Science. 
Dean's Award for Early Career Excellence: Taylor Anderson, Geography and Geoinformation Science and Hamdi Kavak, Computational and Data Sciences
Tenure-track (non-tenured) faculty who have achieved notable success and have increased the profile for their Department and the College. Candidates must show exceptional accomplishment in teaching and/or research, thus clearly establishing themselves as excellent faculty members. While they need not excel in all areas of faculty activity, they should be clearly superior in at least one area and not obviously deficient in any areas. 
Dean's Award for Excellence in Diversity and Inclusion: Lillian Virgil, Dean's Administration
Awarded to a faculty or staff member who has demonstrated excellence in this area through their teaching, research, community outreach, or other efforts. 
Dean's Big Challenge Award: Lance Liotta, School of Systems Biology
Awarded to a faculty member who has best contributed to solving one of the world's big problems. 
Dean's Creative Educator Award: Valerie Olmo, Biology
Candidates should be engaged in efforts in cross-disciplinary education, innovative approaches to education, enrichment of students' educational experience outside the classroom, and the embedding of entrepreneurship as an integral part of students' academic experience. 
Dean's Impact Award: Monique van Hoek, School of Systems Biology
Any faculty member who has achieved particular success and has made a notable impact and brought recognition to our College. 
Dean's Outstanding Staff Award: Christine Amaya, Mathematical Sciences
The candidate will be recognized for dedication to the well-being and operation of the college and the administrative units thereof. Individuals nominated shall exemplify strong capability, commitment and service to the College and the University community. Specific examples of the outstanding duties performed should be emphasized. 
Dean's Research Scientist Award: Chao Luo, Chemistry
The award will recognize research excellence evidenced by the discovery of new knowledge as demonstrated by published work in books, journals and leading conferences; invited talks, prizes, inventions, patents and other recognitions; and, as appropriate, the track record of their competitive research funding. 
Dean's Research Support Award: Elisa Baldelli, School of Systems Biology
Candidates should be actively involved in supporting a solid research program in basic or applied sciences that has gained significant national and international attention. It must be clear that the nominee has made a valuable and innovative contribution to research in the college. 
Participate in one or several event activities
Share your college kudos
The College of Science Kudos is an instant way to show appreciation to an individual or team for their contributions to Mason, both inside or outside of their department or unit. We encourage you to take a minute to say thank you to a colleague for an action you believe deserves recognition. Submissions will go on the college's social media accounts. Submit your kudos
College raffle
The raffle is now closed. Winners will be announced throughout the week of December 6, 2021. 
Day One Winners:
$40 School Store Gift Card – Francina Osoria, Dean's Admin

$25 School Store Gift Card – Aikwan Chong, ESP

$25 Starbucks Gift Card – Laura Powers, Dean's Admin

$25 Starbucks Gift Card – Andrea Nikoi, SSB

$25 Amazon Gift Card – Benjamin Dreyfus, PHYS

$25 Amazon Gift Card – Pritha Roy, PHYS

Amazon Alexa Dot – Kamica Wilson, Dean's Admin

Board Game Set – Joel Schnur, Dean's Admin
Day Two Winners:
$60 Netflix Gift Card – Lori Mayes, FRSC
$50 Uber Eats Gift Card – J.D. Sayle,

Dean's Admin

Pet Grooming/Pet Friend Basket – Yali Kong,

Dean's Admin
Day Three Winners:
Cricut Joy + Essentials Bundle – Catherine Sausville, MATH
$100 Target Gift Card – Peter Plavchan, PHYS
Airpods – Harold Cooper, CHEM
Mystery Box Winner (iRobot Rumba 692)
Min Huang, College of Science