Faculty & Staff Directory
Rosa Isela Gallagher
Senior Research Scientist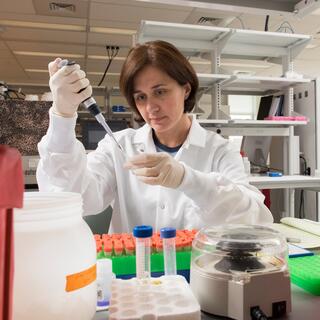 Name

Rosa Isela Gallagher

Job Title

Senior Research Scientist

Email

Phone Number

Office Number

Applied Proteomics and Molecular Medicine Institute for Advanced Biomedical Research, Office 2009 SciTech, MSN: 1A9
Centers
Center for Applied Proteomics and Molecular Medicine (CAPMM)
Research Areas
Biomedical Research

Proteomics

Systems Biology
PhD in Biosciences for Cell and Molecular Biology, George Mason University (2019)
 
Dr. Gallagher's research incorporates Laser Capture Microdissection (LCM), Reverse Phase Protein Microarray (RPPA) technology and immunohistochemistry (IHC) to investigate unique signaling pathway profiles in cancer tissue that can be utilized for diagnosis, prognosis, targeted therapeutics and individualized therapy.
Dr. Gallagher's current research focuses on the proteomic profiling of solid tumor tissues, including breast, thyroid, lung, and prostate for designing personalized therapeutic strategies, and identification of functional signaling pathways underlying resistance to targeted therapies.
Olshen A, Wolf D, Jones EF, Newitt D, van't Veer L, Yau C, Esserman L, Wulfkuhle JD, Gallagher RI, Singer L, Petricoin EF, Hylton IIIN, Park CC. 2018. Features of MRI stromal enhancement with neoadjuvant chemotherapy: a subgroup analysis of the ACRIN 6657/I-SPY TRIAL. J. Med. Img. 5(1): 011014.
Guo Z, Sevrioukova IF, Denisov IG, Zhang X, Chiu TL, Thomas DG, Hanse EA, Cuellar RAD, Grinkova YV, Langenfeld VW, Swedien DS, Stamschror JD, Alvarez J, Luna F, Galván A, Bae YK, Wulfkuhle JD, Gallagher RI, Petricoin EF, et al. 2017. Heme Binding Biguanides Target Cytochrome P450-Dependent Cancer Cell Mitochondria. Cell Chem Biol. 19;24(10):1314.
Jayappa KD, Portell CA, Gordon VL, Capaldo BJ, Bekiranov S, Axelrod MJ, Brett LK, Wulfkuhle JD, Gallagher RI, Petricoin EF, Bender TP, Williams ME, Weber MJ. 2017. Microenvironmental agonists generate de novo phenotypic resistance to combined ibrutinib plus venetoclax in CLL and MCL. Blood Adv. 1(14):933-94.
Pierobon M, Ramos C, Wong S, Hodge KA, Aldrich J, Byron S, Anthony SP, Robert NJ, Northfelt DW, Jahanzeb M, Vocila L, Wulfkuhle J, Gambara G, Gallagher RI, Dunetz B, Hoke N, Dong T, Craig DW, Cristofanilli M, Leyland-Jones B, Liotta LA, O'Shaughnessy JA, Carpten JD, Petricoin EF. 2017. Enrichment of PI3K-AKT-mTOR Pathway Activation in Hepatic Metastases from Breast Cancer. Clin Cancer Res. 23(16):4919-4928.
Gallagher RI, Espina V. 2014. Reverse phase protein arrays: mapping the path towards personalized medicine. Mol Diagn Ther. 18(6):619-30.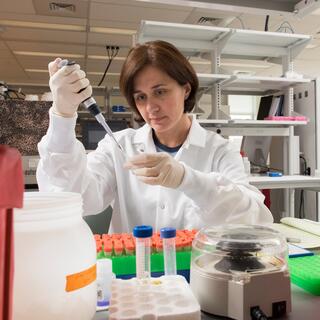 Name

Rosa Isela Gallagher

Job Title

Senior Research Scientist

Email

Phone Number

Office Number

Applied Proteomics and Molecular Medicine Institute for Advanced Biomedical Research, Office 2009 SciTech, MSN: 1A9