A growing field for a changing climate
Earth's climate is rapidly changing, creating huge challenges for human society. There is a growing demand for climate experts with advanced technical knowledge who can work with increasingly sophisticated Earth System models and increasingly complex data streams.  If you have a background in physical science, mathematics, engineering, or Earth science, the Mason Climate Science MS can help you become one of those experts.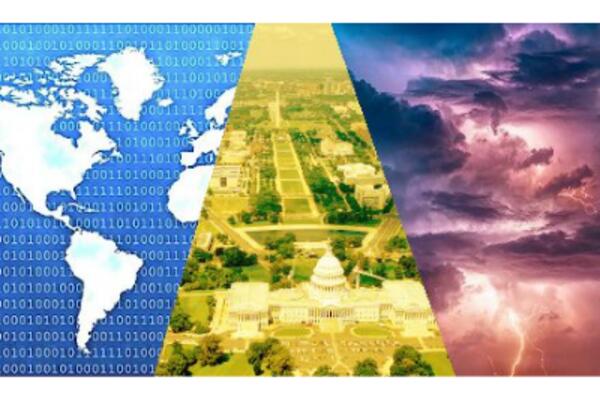 Course Catalog
Review admission and course requirements for this degree:
Concentrations
The Mason program is a unique and innovative Master's degree designed for a rapidly changing field.  Students choose one of two concentrations, each focusing on a different computational aspect of climate science.
Climate Modeling Concentration
The Climate Modeling Concentration will prepare climate, weather, and Earth-system modelers to work at major U.S. modeling centers and academia. These graduates will support scientists performing day-to-day operational and research support tasks in initializing, running, and diagnosing climate models.
Climate Data Concentration
The Climate Data Concentration is aimed at students who will work in organizations that apply the results of climate science. Although government data are often freely available, expert analysis and interpretation of those data are required to understand and respond to technical information about changing climate.
There is a growing need in both the public and private sectors for trained professionals who can analyze and interpret the growing volume of climate data. Climate data services have emerged as a new industry. Government agencies are also increasingly in need of experts who can inform efforts to address climate change challenges. While the MS program is new, graduates of the Climate Dynamics Doctoral Program have gone on to labs such as Goddard Space Flight Center, Cal Tech's Jet Propulsion Lab, NOAA's Geophysical Fluid Dynamics Lab/Princeton University, and National Center for Atmospheric Research (NCAR). Climate Science MS graduates will also go on to national laboratories, as well as government agencies, non-governmental organizations, corporations, and doctoral degrees. 
Expert Faculty and scientific staff of AOES and the Center for Ocean-Land-Atmosphere Studies (COLA) conduct internationally renowned research on climate predictability, seasonal and decadal forecasting, climate model development, atmospheric convection, atmosphere-ocean interactions, ocean circulation, air quality, satellite data analysis, paleoclimatology, statistical techniques, land-atmosphere interactions and tropical variability. AOES is also home to the Climate Dynamics Doctoral Program. Small class sizes and access to research-active faculty provide MS students with direct exposure to research and innovation at the forefront of the field.