Geoinformatics and Geospatial Intelligence, MS
The program addresses the emerging demand for scientists trained in the collection, organization, analysis, and dissemination of information about physical features, man-made structures, moving objects, people, and events that are geo-referenced or geo-located.
This program focuses primarily on the computational approaches that support the synthesis and analysis of diverse types of data in order to identify and monitor complex events and phenomena that manifest over space and time.
While geospatial intelligence has a strong Department of Defense connotation, the principles behind it have a significant dual use potential, addressing the needs of a broader audience, ranging for example from intelligent navigation in urban spaces to emergency response systems for natural and man-made disasters.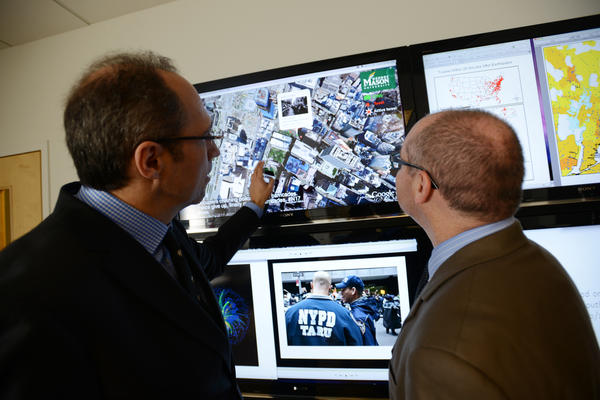 Program Highlights
The MS is designed to expose students to fundamental theoretical principles and practical applications involving:
Geographic Information Science
Digital image analysis as it applies to geoinformatics and geospatial intelligence
Computational principles for geoinformatics and intelligence
This program is accredited by the United States Geospatial Intelligence Foundation (USGIF). Students enjoy many benefits of this partnership including:
Access to leaders in the geospatial intelligence community at local meet ups and national conferences
Discounted USGIF membership while in school and post-graduation as a young professional
Ability to join USGIF's Young Professional Group (YPG) and network with peers
Scholarship opportunities
Professional certification through USGIF
Course Catalog
Review admission and course requirements for this degree:
Students with a degree in Geoinformatics and Geospatial Intelligence can pursue careers in the federal workforce, intelligence community, and beyond.
Research opportunities abound in GGS for students pursing this degree. Graduate students can work on research projects with peers, faculty, and external collaborators.
What Students Say
Jin Lee, BS Criminology '16, MSc in Geoinformatics and Geospatial Intelligence '18:
"Professional networking options are bountiful between public and private sectors in this area. Whether you're interested in public policy-making, scientific research, or administrative management roles at federal, state, and local levels, you could practice it here. Most importantly, we have a very diverse population here. GMU is the perfect place to build teams or organizations capable of innovation and creating an environment where 'outside the box' ideas are heard."
Licensure Disclosure
This program has been identified by George Mason University as one that may lead to a career requiring professional licensure/certification. Federal regulations require Mason to disclose information as to whether this program meets/does not meet the educational requirements for licensure/certification in your state, or whether such a determination has not been made. Please consult our Licensure Disclosure Tool (https://provost.gmu.edu/licensure) for the disclosure statement specific to your desired state/program combination.