Bioinformatics and Computational Biology, PhD
The bioinformatics doctoral program provides students interdisciplinary academic training and research experience delivered fully online or via traditional face-to-face format.
In the field of bioinformatics and computational biology, specialists collect, store, analyze, and present complex biological data. Through this work, critical contributions are made to disease detection, drug design, forensics, agriculture, and environmental sciences through the combination of biological analysis and high-performance computing.
The main objective of this doctorate is to educate the next generation of computational biologists for careers in academia, industry, and government. Courses are designed to be completed in approximately two years. Completion of coursework, the comprehensive exam, and a successful dissertation proposal results in advancement to candidacy status. In the final phase, students focus on research that culminates in a dissertation.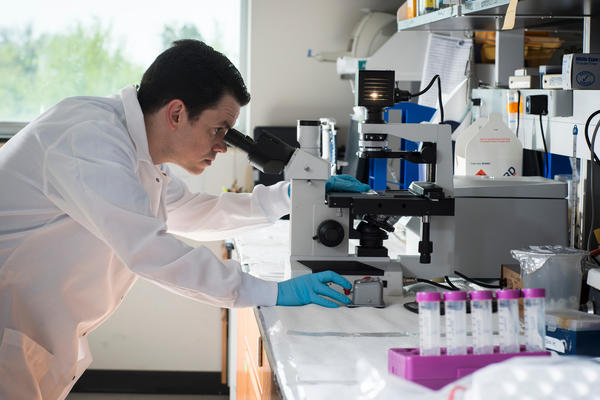 Program Highlights
The program is structured to be accessible for full and part-time students. The courses are offered in a hybrid or distance learning format without requiring students to travel to campus. Because the research is computational, students may choose to earn their PhD degrees entirely remotely or in a traditional face-to-face format. Visit Mason Online for details
Course Catalog
Review admission and course requirements for this degree:
Our graduates go on to pursue careers in:
Government Research
Private Industry
Higher Education
Health Care
Doctoral students have the unique advantage of working with leading scientists in our field, which include the SSB faculty who are involved in a variety of research projects. Students are required to complete multiple lab rotations which provide the opportunity to collaborate in research with their peers and mentors.