Develop a more thorough understanding of biological concepts with opportunities for in-depth research. 
This program provides advanced training for college graduates or professionals seeking careers in the biomedical research, biotechnology, neuroscience or biodefense, evolutionary biology and biology teaching. The program actively collaborates with GeorgeSquared Biomedical Sciences Program and offers a possibility to complete 20 credits G2 Pre-med Certificate with graduate degree, and with Graduate Certificate in Personalized Medicine, which allows new students to have a taste of graduate studies in Biosciences before committing to a degree program.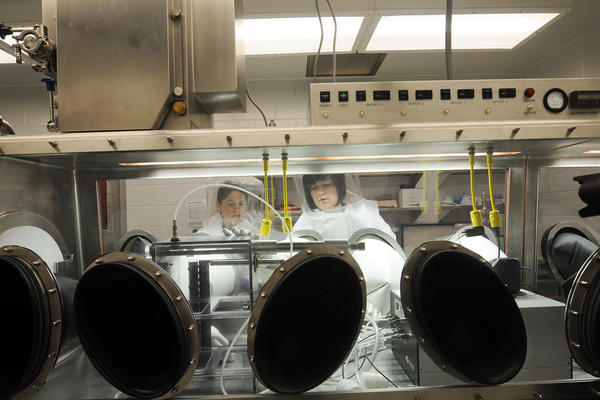 Program Highlights
Students graduate with sound experience in quantitative and analytical thought, prepared to related professions or further graduate careers.
In addition to training in Biosciences, MS in Biology students will also develop scientific writing and public presentation skills.
Large, flexible program with 5 different concentrations.
Access to cutting-edge research laboratories, including these outside Mason.
Course Catalog
Review admission and course requirements for this degree:
The program enables its students to develop careers in a wide variety of settings, including academic laboratories, industry and start-ups, environmental protection and science promoting organizations as well as in clinical and translational research.
Concentrations
General concentration
The most flexible option selected by approximately 50% of our students. Individual Program of Study is developed according to Student' research interests and time frame.
Evolutionary Biology
"Nothing in Biology Makes Sense Except in the Light of Evolution"  Theodosius Dobzhansky
From Organisms to Populations to Species with more than a Looking Glass.
Microbiology and Infectious Diseases
In depth study of  bacterial and viral pathogens, immune system as well as host-pathogen interaction.
Molecular Biology
Biotechnology and Laboratory Research spanning the space from the proteins to DNA to small biochemicals with a bit of Omics and Molecular Modeling in silico.
Neuroscience
From the brain to peripheral nerves. From neurons and brain tissue studies to rodent models and human subject. From wet lab experiments to in silico models. 
Nutraceuticals and Nutrition Genetics
This fast-paced field requires a broad knowledge of human systems biology – from organs and tissues down to small metabolites and gene products.
Translational and Clinical Research
Human diseases from bench to bedside. Molecular networks, cell models and systems biology of cancer, Metabolic syndrome, Alzheimer's and more. Genetics and Physiology both for Pre-Meds and for die-hard laboratory wizards.
Students in the Biology MS program, making it the largest graduate program in the College of Science.
The number of graduate credits that may be transferred in from outside Mason.
Students graduating in two years or fewer.