This program is a research-oriented field of study that prepares students for significant contributions in academic or industrial settings.
Students enrolled in our many degree programs have the opportunity to work closely with scientists in research centers affiliated with the School of Systems Biology. Students can enhance their academic programs with hands-on research in meaningful fields, which often leads to careers in those fields.
The Biosciences PhD program offers three areas of concentrations: Cell and Molecular Biology, Microbiology and Infectious Disease, and Biocomplexity and Evolutionary Biology.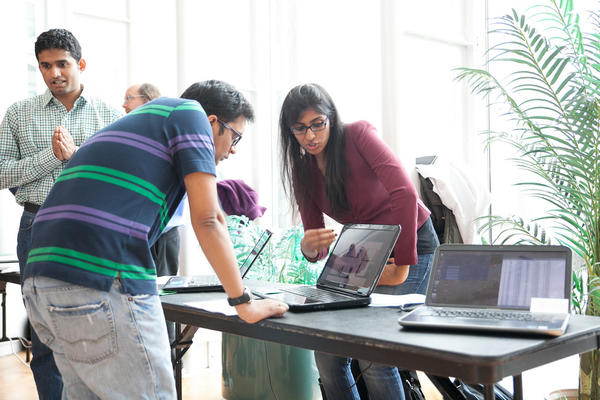 Program Highlights
School of Systems Biology professors conduct groundbreaking research in such areas as cancer, neuroscience, HIV/AIDS, obesity, liver and lung disease, biodefense, and biotechnology.
Course Catalog
Review admission and course requirements for this degree:
Our graduates pursue careers in:
Government Research
Private Industry
Higher Education
Health Care
Concentrations
Biocomplexity and Evolutionary Biology (BEB)
This concentration prepares students for careers in academia, government or industry.  Through this concentration students will learn laboratory and quantitative skills that will enable them to investigate evolutionary relationships among organisms at the population, species or ecosystem level. Students will be encouraged to explore a wide range of coursework in order to develop a broad background in evolutionary biology and a deep knowledge of relevant methodologies necessary to keep abreast in this rapidly changing field.
The science of evolutionary biology is fundamentally concerned with documenting not only genetic change, but also the processes that cause it. Evolutionary biology includes paleobiology, population genetics, evolutionary ecology and phylogenetics. Biocompexity is the study of living organisms, including their unique structural, chemical and genetic properties, their distribution and abundance in nature, and their evolutionary relationships to all other organisms. Given the fact that most of the earth's biodiversity is unknown, collecting, cataloging and studying organisms have always been and will continue to be one of the most challenging aspects of biology.
Cell and Molecular Biology (CMB)
This concentration prepares students for significant contributions in an academic or industrial research career. Coursework covers analysis of gene expression, proteome analysis, sequencing and analysis of gene polymorphisms, gene and genome evolution, molecular studies of disease mechanisms, mechanisms of toxicology and mutagenesis, developmental neuroscience, and biotechnological applications.
Microbiology and Infectious Diseases (MID)
Students in this concentration will be prepared for employment in academia, government, or industry. By stressing mechanisms of pathogenicity, physiology, metabolism, genomic and proteomic analysis of pathogens, students will have a firm foundation for future research in infectious disease. Students will also be introduced to advanced laboratory practices, such as animal research methodologies and biocontainment laboratory work.