Faculty & Staff Directory
Amy Fowler
Associate Professor
Department Chair, 2023-24
Faculty Fellow, PEREC
Invertebrate Ecology, Aquatic Ecology, Parasitology and Invasions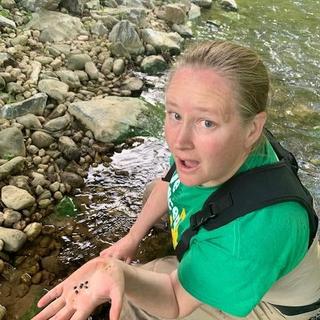 Name

Amy E. Fowler

Job Title

Associate Professor

Department Chair, 2023-24

Faculty Fellow, PEREC

Invertebrate Ecology, Aquatic Ecology, Parasitology and Invasions

Email

Phone Number

Office Number

Potomac Science Center, Room 3117, MSN 5F2
Centers
Potomac Environmental Research and Education Center (PEREC)
Research Areas
Aquatic Ecology

Applied Science

Biodiversity

Biology

Conservation

Environmental Science and Policy
PhD, Marine Science, University of Auckland (2011)
BSc, Biology: Marine and Freshwater, University of New Hampshire (2005)
Dr. Fowler's general research interests and experiences include global aquatic invertebrate species patterns, biodiversity, phenotypic plasticity, parasitology, and community and population level interactions of aquatic invertebrates, especially those concerning invasions. She has experience working in freshwater, estuarine, and marine systems both in the United States and globally. Currently, her laboratory at GMU has three main topics of study: host-parasite interactions, invasion dynamics and processes, and natural resource management of commercially and recreationally important aquatic invertebrate species.
Broadly speaking, I am interested in how biotic interactions in marine, estuarine, and freshwater environments affect the distribution and abundance of invertebrates. I am particularly intrigued by the biology and ecology of introduced species and their interactions with native species, as the study of invasion biology can provide an important theortical and practical understanding of population and community level ecology. In my research, I combine traditional field and laboratory experiments, spatial ecology, resource management and decision making, and human dimensions. My research is mostly focused on the aquatic ecosystems of the Atlantic coast of North America, but I also am involved in international efforts, mostly focused on invasive species.
As a tenure-track assistant professor at GMU, I engage students in environmental science through innovative classes incorporating field work and hands-on activities, a research program focusing on aquatic invertebrate ecology and biology with many opportunities for student involvement, and contribute to the community through outreach education and collaboration with local, state and national environmental decision makers.

EVPP/BIOL 350: Freshwater Ecosystems Lecture and Lab (UG)
EVPP/BIOL 449: Marine Ecology (G, UG)
EVPP 301: Environmental Science: Biological Diversity and Ecosystems (UG)
EVPP 490: Aquatic Invertebrate Ecology Lecture and Lab (G, UG)
EVPP 991: Experimental Design for Environmental Scientists (G)
EVPP 505: Experimental Design and Statistics for Environmental Science (G)
Fowler AE, Blakeslee AMH, Bortolus A, Dias J, Schwindt E, Tepolt CK. 2020. Tenth International Conference on Marine Bioinvasions (ICMB-X): Celebrating current research and innovations while bringing recognition to pressing issues and lingering questions. Aquatic Invasions 15: 1-10.
Fowler AE, Blakeslee AMH, Canning-Clode J, Repetto M, Ruiz GM, Miller AW. 2020. Temporal shifts in a vector's propagule supply characteristics and implications for invasion ecology. Marine Ecology Progress Series 641: 13-24.
Carlton JT, Fowler AE. 2018. Ocean rafting and marine debris: A broader vector menu requires a greater appetite for invasion biology research support. Aquatic Invasions 13(1): 4-6.
Wieland R, Fowler AE, Miller AW. 2018. Naked in trays: How the trade in live marine baitworms could decrease species invasions. Management of Biological Invasions 9(2) 79-84.
Forsström T, Vesakoski O, Riipinen K, Fowler AE. 2018. Post-invasion demography and persistence of a novel functional group in an estuarine system. Biological Invasions 20(11): 3331-3345.
Fowler AE, Blakeslee AMH, Canning-Clode J, Repetto M, Phillip AM, Carlton JT, Moser F, Ruiz GM, Miller AW. 2016. Opening Pandora's bait box: a potent vector for biological invasions of live marine species. Diversity and Distributions 22(1): 30-42.
Fowler AE, Forsström T, von Numers M, Vesakoski O. 2013. The North American mud crab Rhithropanopeus harrisii (Gould 1841) in newly colonized northern Baltic Sea: Distribution and population demography. Aquatic Invasions 8(1): 89-96.
NSF Faculty Institutes for Reforming Science Teaching IV Postdoctoral Scholar (2011-2012)
J. William Fulbright Undergraduate Fellow to New Zealand (2007)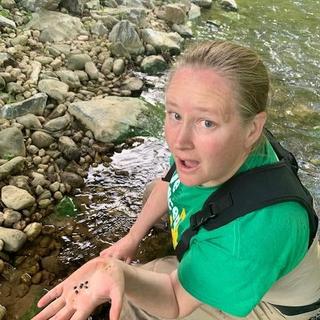 Name

Amy E. Fowler

Job Title

Associate Professor

Department Chair, 2023-24

Faculty Fellow, PEREC

Invertebrate Ecology, Aquatic Ecology, Parasitology and Invasions

Email

Phone Number

Office Number

Potomac Science Center, Room 3117, MSN 5F2