Faculty & Staff Directory
Anthony Falsetti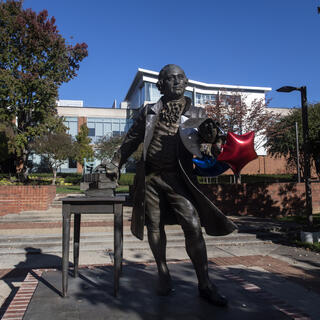 Name

Dr. Anthony Falsetti

Job Title

Email

Phone Number

Office Number

Exploratory Hall, Room 3419, MSN 6E2
Post Doctoral Research Fellow in Ecology & Evolution - State University of New York - Stony Brook, NY
Doctor of Philosophy in Biological Anthropology - University of Tennessee - Knoxville, TN
Master of Arts in Biological Anthropology - University of Tennessee - Knoxville, TN
Bachelors of Arts - Biological Anthropology & Political Science (minor) - University of Tennessee - Knoxville, TN
Prior to arriving at GMU, Anthony was a Professor of Practice in the School of Mathematical & Natural Sciences at Arizona State University (ASU), Barrett Honors Faculty, and Senior Sustainability Scholar.  Anthony was also an Associate Professor and Director of the C.A. Pound Human Identification Laboratory at the University of Florida and Deputy Director in the Forensic Science Department, at the International Committee on Missing Persons, Sarajevo, Bosnia & Herzegovina.
Dr. Falsetti has been deployed to many mass fatality situations including military mishaps, commercial airline mass disasters (American Eagle, TWA 800), domestic terrorism (Oklahoma City Bombing), foreign terrorism (World Trade Center), and natural disasters (GA Floods, Thai Tsunami and Haitian Earthquake). In Bosnia & Herzegovina, Anthony managed mortuaries and field teams whose mission was to excavate, recover and identify victims from the Bosnian Conflict 1992 – 1996.  Recently (Spring 2019), he was part of a team of forensic anthropologists sent to Puerto Rico at the behest of the National Association of Attorney's General and Bureau of Forensic Sciences, and the Puerto Rico Department of Public Safety, to assist the medical examiner's office recover from the impact of Hurricane Maria.
Anthony is currently performing sponsored research in microbiomes and their utility in for geolocating unidentified persons using proteomics, this research will be applicable to border crossing deaths, human trafficking victims, and unidentified persons in the US.  He is also interested in human facial growth in children using 3D CT scan technology, and the impact of taphonomy on recognizing trauma in bone using SEM and XRF.
FRSC 405 Independent Research Methods
FRSC 406 Forensic Internship
FRSC 500 Introduction to Forensic Science
FRSC 550 Issues in Forensic Anthropology
Quantifying the face: dense facial tissue depth mapping of computed tomography (CT) models with free software, Terrie Simmons-Ehrhardt, Catyana Falsetti, Anthony B. Falsetti, Christopher J. Ehrhardt. Hum Biol. 2018 Jan;90(1):63-76.
The Role of the Forensic Sciences in Disaster Victim Identification, Anthony B. Falsetti, Ph.D., Paper presented at the Annual Meeting of the American Academy of Forensic Sciences, Anaheim, CA, 2020.
Interactive Resources for Craniofacial Identification, Terrie Simmons-Ehrhardt, MA*, Anthony B. Falsetti, PhD, Catyana R. Falsetti, MFS, Christopher J. Ehrhardt, PhD, Poster presented at the Annual Meeting of the American Academy of Forensic Sciences, Baltimore, MD, 2019
Scanning Electron Microscopes with Energy Dispersive X-Ray Spectroscopy (SEM/EDX) Analysis of Gunshot Residue (GSR) on Pig Bone, Anthony B. Falsetti, PhD*, Natalie R. Langley, PhD, Blake D. Ehlers, Bethany M. Pittman, AmberCherie Lasala, Kimber G. Cheek, BS, Derek A. Boyd, MA, Poster presented at the Annual Meeting of the American Academy of Forensic Sciences, Baltimore, MD, 2019
Addressing the Challenge of Conducting Undergraduate Research in Forensic Science Academic Programs Using a Course-Based Undergraduate Research Experience (CURE)Kimberly S. Kobojek, MS*; Pamela A. Marshall, PhD; Ken G. Sweat, PhD; Jennifer Broatch, PhD; Jennifer Foltz-Sweat, PhD; Anthony B. Falsetti, PhD, Paper presented at the Annual Meeting of the American Academy of Forensic Sciences, Baltimore, MD, 2019
The influence of sex, age, and BMI on the degeneration of the lumbar spine. Journal of     Anatomy. L.A. Zukowski, A.B. Falsetti, and M. Tillman.  Jan; 220 (1): 57-66.  2012
Dean's Impact Award, College of Science, George Mason University (2019)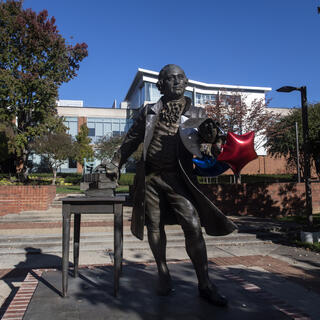 Name

Dr. Anthony Falsetti

Job Title

Email

Phone Number

Office Number

Exploratory Hall, Room 3419, MSN 6E2