Faculty & Staff Directory
Natalie Howe
Adjunct Faculty
Biodiversity, Urban Plant and Lichen Ecology, Mycology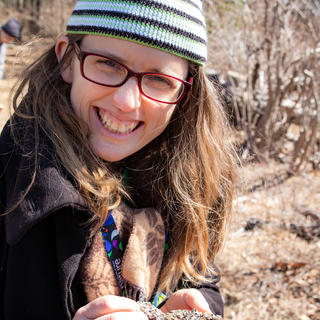 Name

Dr. Natalie M Howe

Job Title

Adjunct Faculty

Biodiversity, Urban Plant and Lichen Ecology, Mycology

Email

Phone Number

Office Number

David King Hall, Room 3026, MSN 5F2
Research Areas
Biodiversity

Conservation

Science Education
PhD, Ecology and Evolution, School of Environmental and Biological Sciences, Rutgers (2016)
MES, Master of Environmental Studies Program, University of Pennsylvania (2006)
BS, Molecular Biophysics and Biochemistry, Yale College (2001)
Working as a Agriculturist at the USDA, I help make sure that the fresh food plants we trade with other countries are not carrying pests or diseases that could harm farms. As an educator, I am interested in engaging people with the world outside, especially with plants and fungi, and in helping people better understand how to find, use, and communicate scientific information.
My research focus is on disturbance and recovery in urban plant and lichen communities of urban areas in the Mid-Atlantic Region of the United States.
I have taught several courses in the realms of ecology, biology, mycology, and botany.
2020: Mushrooms, Molds, and Society: EVPP408 / BIOL408 George Mason University
2019: Ecological Principles and Field Methods: BIO315 Southern New Hampshire University
2018: Natural Resources: BIO318 Southern New Hampshire University
2017: Environmental Science: BIO101 Southern New Hampshire University
2016: Ecology and Field Biology, BIO221 The College of New Jersey.
2015; Fungi in the Environment: 11:776:400, Rutgers University
2014: Plant Diversity and Evolution Lab: 11:216:412, Rutgers University
2013: Plant Ecology Lab: 11:704:332, Rutgers University
2010-2013: General Biology Lab 01:119:101-102, Rutgers University
2006: Evolution of the Physical World Lab GEOL289 University of Pennsylvania
England, J.K., C.J. Hansen, J.L. Allen, S.Q. Beeching, W.R. Buck, V. Charny, J.G. Guccion, R.C. Harris, M. Hodges, N.M. Howe and J. C. Lendemer. 2019. Checklist of the lichens and allied fungi of Kathy Stiles Freeland Bibb County Glades Preserve, Alabama, USA. Opuscula Philolichenum, 18:420-434.
Coxson, D. and N. Howe, 2016. Lichens in Natural Ecosystems. In: The Fungal Community: Its organization and role in the ecosystem, Fourth Edition, CRC Press, London.
Allen, J.L. and N.M. Howe, 2016. Landfill Lichens: A checklist for Freshkills Park, Staten Island, NY Opuscula Philolechenum 15:82-91.
Pollock, N.B., N. Howe, I. Irizarry, N. Lorusso, A. Kruger, K. Himmler, and L. Struwe, 2015. Personal BioBlitz: A New Way to Encourage Biodiversity and Knowledge in K-99 Education and Outreach. BioScience 65(10):1083-1091.
Howe, N.M., and J. C. Lendemer, 2010. The recovery of a simplified lichen community at the Palmerton Zinc Smelter after 34 years. In: A Lichenological Legacy – Festschrift Thomas H. Nash III. S.T. Bates, F. Bungartz, R. Lücking, M.A. Herrera-Campos & A. Zambrano (eds.). Bibliotheca Lichenologica 106: 120–136.
Tuckerman Award: American Bryological and Lichenological Society (2016)
Caroline Thorne Kissel Award For Environmental Studies: Garden Club of America (2015)
Charlie Kontos Award: Rutgers Graduate Program in Ecology and Evolution (2013)
Bayard Long Award for Botanical Research: Philadelphia Botanical Club (2011)
Botanical Education In Prisons
Dr. Howe and colleagues volunteered to create and deliver an innovative botanical education program for the State Prison System in New Jersey, in collaboration with Princeton University's Prison Teaching Initiative.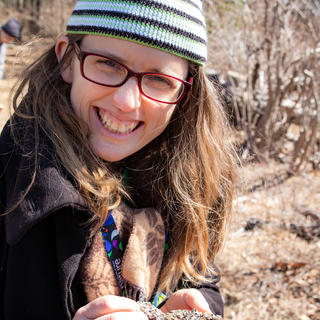 Name

Dr. Natalie M Howe

Job Title

Adjunct Faculty

Biodiversity, Urban Plant and Lichen Ecology, Mycology

Email

Phone Number

Office Number

David King Hall, Room 3026, MSN 5F2