Faculty & Staff Directory
Padmanabhan Seshaiyer
Name

Dr. Padmanabhan Seshaiyer

Job Title

Website

Email

Phone Number

Office Number

Exploratory Hall, Room 4456, MSN 3F2
Centers
Center for Outreach in Mathematics Professional Learning & Educational Technology (COMPLETE)
Research Areas
Applied Science

Bio-health/Health

Biomedical Research

Data Sciences

Digital Innovation

Engineering

Healthcare Technology

Math

Modeling

Neuroscience

Personalized Medicine

Science Education

Simulation
PhD, Applied Mathematics, University of Maryland, Baltimore County (1998)
MSc (Hons), Mathematics, BITS Pilani, India (1994)
B.E. (Hons), Electrical and Electronics Engineering, BITS Pilani, India (1994)
Dr. Padmanabhan Seshaiyer is a tenured Professor of Mathematical Sciences and serves as the Associate Dean for Academic Affairs for the College of Science at George Mason University. He also serves as the Director of COMPLETE (Center for Outreach in Mathematics Professional Learning and Educational Technology) at GMU. His research interests are in the broad areas of computational mathematics, scientific computing, computational biomechanics and STEM education.
"Mathematical Modeling, Analysis and Simulation of the Spread of Gangs in Interacting Youth and Adult Populations", Letter in Biomathematics, M. Castro, P. Padmanabhan, C. Caiseda and P. Seshaiyer, Accepted (2019).
"Harnessing the power of the recovering brain to promote recovery commitment and reduce relapse risk", Matto, H., & Seshaiyer, P., Journal of the Society for Social Work and Research, 9(2), 341-358 (2018).
"International Collaboration through the Volunteer Lecturer Program", P. Seshaiyer, Notices of the American Mathematical Society, Vol 65 (8), pp1011-1014, September 2018.
"Application of local improvements to reduced-order models to sampling methods for nonlinear PDEs with noise", Int. J. of Computer Mathematics, M. Raissi and P. Seshaiyer, pp1-11, (2017).
"Leading Undergraduate Research Projects in Mathematical Modeling," P. Seshaiyer, Problems, Resources, and Issues in Mathematics Undergraduate Studies: PRIMUS, PP 1-18, (2017).
Honorary Doctorate, Vrije Universiteit Brussel (2019)
STEM Champion of the Year Award (2019)
Programs that Work Award (2018, 2016, 2015, 2010)
GMU Alumni Faculty of the Year (2014)
GMU OSCAR Mentoring Excellence Award (2013)
Article on Honorary Doctorate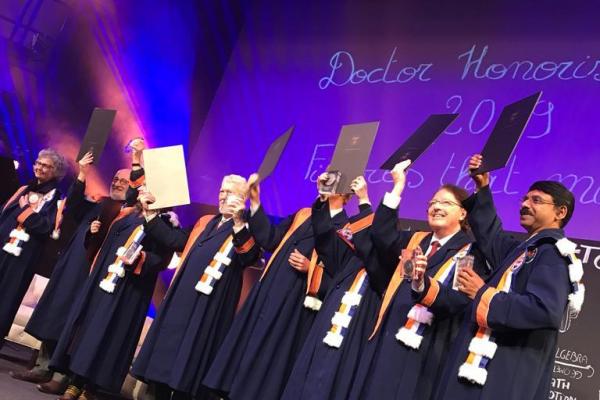 Name

Dr. Padmanabhan Seshaiyer

Job Title

Website

Email

Phone Number

Office Number

Exploratory Hall, Room 4456, MSN 3F2