Faculty & Staff Directory
Peter Plavchan
Associate Professor
Director, GMU Observatories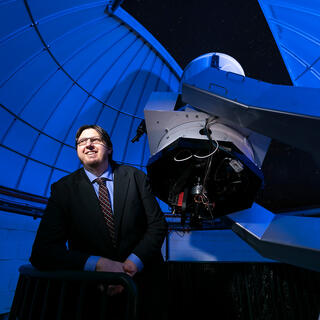 Name

Dr. Peter P. Plavchan

Job Title

Associate Professor

Director, GMU Observatories

Website

Email

Phone Number

Cell Number

Office Number

Planetary Hall, Room 243, MSN 3F3
PhD, Physics, University of California Los Angeles (2006)
Peter Plavchan is an Associate Professor of Physics and Astronomy at George Mason University, and the Director of the George Mason University Observatories. He earned his undergraduate degree in Physics at Caltech in 2001, his PhD from UCLA in 2006, and he has held appointments at the NASA Exoplanet Science Institute at Caltech, Missouri State University, and a visiting appointment at the University of Pennsylvania.
Dr. Plavchan is an observational exoplanet astronomer, with a focus on the formation and demographics of planets around cool dwarfs, utilizing the radial velocity and transit detection methods. He is the PI of a NASA Probe Mission concept called EarthFinder, is a Co-PI of the MINERVA-Australis telescope array, regularly uses the NASA Infrared Telescope Facility iSHELL spectrometer for precise radial velocities, has served as an Executive Committee member of the NASA Exoplanet Program Analysis Group (ExoPAG), and has received multiple NASA Group Honor Achievement Awards. His research is currently supported by NASA, NSF, and the Mt. Cuba Astronomical Foundation, and his work has appeared in numerous local and national publications.
Freshman (ASTR 124), senior capstone (ASTR 402), and graduate courses in observational astronomy (ASTR 602), and major elective and graduate courses in exoplanets (ASTR 420/620)
Transfer student retention
College of Science Dean's Award for Early Career Excellence (2019)
College of Science Excellence in Mentoring award nomination (2019)
College of Natural and Applied Sciences Research Award, MSU (2017)
NASA Group Achievement Award (2017)
Citation: For the development and tests at Mauna Kea observatories of a near-infrared. Laser Frequency Comb as a wavelength standard for the detection and characterization of exoplanets.
NASA Honor Achievement Award, NASA Exoplanet Archive Team 2014
Citation: For outstanding achievement in the rapid and on-budget launch of the NASA Exoplanet Archive.
NASA Honor Achievement Award, Spitzer Science In-Reach Team 2010
Citation: For outstanding support of Spitzer IRAC Warm Instrument Characterization and significant contributions to NASA and JPL commitments to education of the global community.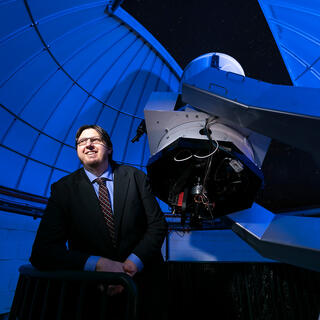 Name

Dr. Peter P. Plavchan

Job Title

Associate Professor

Director, GMU Observatories

Website

Email

Phone Number

Cell Number

Office Number

Planetary Hall, Room 243, MSN 3F3