Faculty & Staff Directory
Rosalina Christova
Assistant Professor
Aquatic Ecology
Algae Taxonomy and Ecology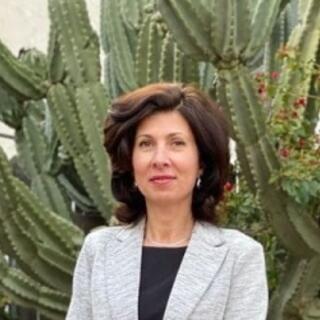 Name

Rosalina S. Christova

Preferred Pronouns

she/her

Job Title

Assistant Professor

Aquatic Ecology

Algae Taxonomy and Ecology

Website

Email

Phone Number

Office Number

Potomac Science Center, Room 2102

650 Mason Ferry Ave Woodbridge, VA 22191
Centers
Potomac Environmental Research and Education Center (PEREC)
Research Areas
Applied Science

Aquatic Ecology

Aquatic toxicology

Biodiversity

Biology

Climate Dynamics

Environmental Science and Conservation
PhD, Botany/Phycology, Sofia University "St. Kliment Ohridski" (2005)
MS, Ecology and Environmental Science Sofia University "St. Kliment Ohridski" (1993)
I am an aquatic ecologist with expertise in freshwater algal taxonomy. My primary research interests pivot on species interactions with their aquatic environment to understand algal responses to global human alterations and climate change. I have worked with microbial communities from diverse ecosystems, including streams, rivers, lakes, wetlands, marine plankton, and coastal benthos from localities in the United States and Europe. I was responsible for introducing a protocol using benthic algae as bioindicators in the stream bioassessment of the California Water Resources Control Board, including developing standard operation procedures, an algal index of biotic integrity, and a biological condition gradient model.
Currently, my research is centered on climate-related emerging environmental issues, such as benthic toxic cyanobacterial blooms and algal tolerance to desiccation. Molecular phylogeny, systematics, and taxonomy of freshwater algae are other foci for continuing research. I apply an integrated approach to address scientific questions incorporating a variety of field, laboratory, experimental, observational, microbiological, and molecular methods. I study the aquatic ecosystems of both the Pacific and the Atlantic coasts of the United States. I am also involved in international efforts related to biogeography, diversity, and ecology of algae cyanobacteria.
URoL:EN: Understanding the rule of life facilitating the proliferation of toxic cyanobacterial benthic mats in flowing freshwaters, NSF Award (collaborators Ramesh Goel, Harry Sundar - The University of Utah, Joanna Blaszczak, Robert Shriver - University of Nevada, Reno)
Taxonomic, molecular, and ecological studies of harmful cyanobacteria and nuisance algae in rivers and lakes in Virginia (collaborators Chris Jones, Greg Foster – GMU)
Integrative molecular, morphological, and ecological studies of stream diatoms (collaborators Regine Jahn, Nelida Abarca, Oliver Skibbe, Jonas Zimmermann – Botanical Garden and Botanical Museum, Berlin, Germany)
Stream diatoms from Mediterranean climates – comparison between diatom flora of southern California and Cyprus (collaborators Kalina Manoylov – Georgia College and State University, Marco Cantonati – University of Bologna, Italy)
Biogeography, phylogeny, and ecology of desiccation-tolerant charophyte alga Zygogonium (Andreas Holzinger – University of Innsbruck, Austria, Lowise Lewis – University of Connecticut)
Teaching is a crucial component of my work in the classroom, research lab, and community. My goal in the aquatic ecology courses I teach is to cultivate curiosity and creative thinking by helping students formulate questions, seek answers, and engage them in environmentally sound practices outside the classroom. My hope is by connecting what we do in the classroom with current water-related issues I can inspire students to be leaders toward a more sustainable future. Providing STEM students with analytical tools and a "real-world perspective" is essential through connection to our local community. • EVPP/BIOL 350: Freshwater Ecosystems • EVPP/BIOL 441: Protist Diversity and Ecology
LeRoy, C. J., Claeson, S. M., Garthwaite, I. J., Thompson, M. A., Thompson, L. J., Kamakawiwo'ole, B. K., Froedin-Morgensen, A. M., McConathy, V., Ramstack Hobbs, J. M., Stancheva, R., Albano, C. M., Finn, D. C. 2023. Canopy development influences early successional stream ecosystem function but not biotic assemblages. Aquatic Sciences: 85:7.
Schvarcz, C. R., Wilson, S. T., Caffin, M., Stancheva, R., Li, Q., Turk-Kubo, K. A., White, A. E., Karl, D. M., Zehr, J. P., Steward G. F. 2022. Overlooked and widespread pennate diatom-diazotroph symbioses in the sea. Nature Communications 13: article number 799.
Stancheva, R. 2022. Cocconeis fetscheriana sp. nov. (Bacillariophyta) from streams in California (USA) with reference to the cingulum variability within the placentuloid species complex. Diatom Research, 37: 127-144.
Conklin, K. Y., Stancheva, R., Otten, T., Fadness, R., Boyer, G., Read, B., Zhang, X., Sheath, R. G. 2020. Molecular and morphological characterization of a novel dihydroanatoxin-a producing Microcoleus species (cyanobacteria) from the Russian River, California, USA. Harmful algae 93: 101767.
Stancheva, R., Hall, J.D., Herburger, K., Lewis, L.A., McCourt, R.M., Sheath, R.G., Holzinger, A. 2014. Phylogenetic position of Zygogonium ericetorum (Zygnematophyceae, Charophyta) from a high alpine habitat and ultrastructural characterization of unusual aplanospores. Journal of Phycology 50: 790-803.
Stancheva, R., Sheath, R. G., Read, B. A., McArthur, K. D., Schroepfer, C., Kociolek, J. P., Fetscher, A. E. 2013. Nitrogen-fixing cyanobacteria (free-living and diatom endosymbionts): their use in southern California stream bioassessment. Hydrobiologia 720: 111–127.
2023 Excellence and Innovation Award for Sustainable Development of the Association for the Advancement of Sustainability in Higher Education (Christova part of an award-winning CSU Faculty Learning Community in Teaching Climate Change and Resilience).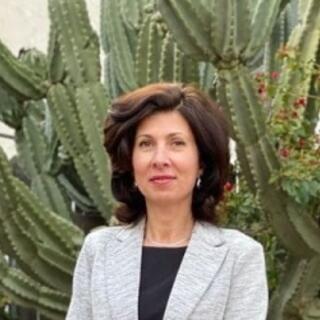 Name

Rosalina S. Christova

Preferred Pronouns

she/her

Job Title

Assistant Professor

Aquatic Ecology

Algae Taxonomy and Ecology

Website

Email

Phone Number

Office Number

Potomac Science Center, Room 2102

650 Mason Ferry Ave Woodbridge, VA 22191