Faculty & Staff Directory
Esther Peters
Professor
Director, Histology Laboratory
Graduate Program Director
Coral Diseases, Comparative Histopathology, Aquatic Toxicology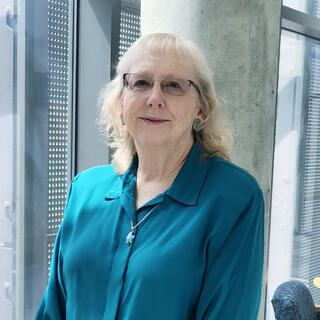 Name

Esther Peters

Job Title

Professor

Director, Histology Laboratory

Graduate Program Director

Coral Diseases, Comparative Histopathology, Aquatic Toxicology

Email

Phone Number

Office Number

David J. King Hall, Room 3050, MSN 5F2
Research Areas
Histology

Coral diseases

Comparative histopathology
PhD, Biological Oceanography, University of Rhode Island, (1984)
MS, Marine Science, University of South Florida, (1978)
BS, Biology, Furman University, (1974)
Dr. Peters' expertise includes marine biology, coral reef ecology, aquatic toxicology, comparative histopathology, and quality assurance. Following postdoctoral research at the Smithsonian Institution on coral taxonomy and invertebrate diseases, she worked at Tetra Tech, Inc., an environmental consulting company. She began teaching at GMU as an adjunct in 1999, and joined the full-time faculty in 2008. She is teaching courses in histology and histotechniques at the undergraduate and graduate level, and developed a 2-semester course sequence to present basic biology and chemistry to non-biology graduate students in the environmental science and policy program. She has also taught courses on diseases of organisms with Dr. A. Alonso Aguirre, and provides training in the histology and histopathology of corals. Dr. Peters collaborates with Drs. Jennifer Salerno and Amy Fowler on understanding the molecular and microbiological aspects of invertebrates and disease processes through the study of cell and tissue alterations as a bridge to understanding population, community, and ecosystem consequences. She works with graduate students on diverse pathobiology research topics and manages the Histology Laboratory, training undergraduate and graduate students in the use of histological tools for their ecological and biomedical research.
Studying diseases of invertebrates, particularly diseases of corals, using histopathological techniques. Providing training in histology and research space for biology, environmental science, bioengineering, and anthropology faculty and students in the GMU Histology Laboratory.
Currently working with:
Dr. Jennifer Salerno on stony coral tissue loss disease outbreak
Dr. Amy Fowler on mud crab parasites and histopathology
Dr. Karen Akerlof on coral reef science communication issues
Dr. Peters teaches courses in histology, histotechniques, cell biology, environmental biology and chemistry, disease ecology and conservation, toxicology, and histopathology for undergraduate and graduate students, as well as related individual special topics and research courses. She has also taught courses combining academics, field/travel abroad experience, laboratory skills, and underwater scientific diver training (member, American Academy of Underwater Sciences).
Dungan, C.F., and E.C. Peters. 2021. Gill epithelial cell nuclear virus disease is prevalent and widespread in Mya arenaria clams of Chesapeake Bay. Diseases of Aquatic Organisms, Vol. 148: 87–94. https://doi.org/10.3354/dao03647
Thierry M. Work, Tina M. Weatherby, Jan H. Landsberg, Yasunari Kiryu, Samantha M. Cook and Esther C. Peters. 2021. Viral-Like particles are associated with endosymbiont pathology in Florida Corals affected by stony coral tissue loss disease. Frontiers in Marine Science, 05 November 2021 | https://doi.org/10.3389/fmars.2021.750658
Landsberg, J.A., Y. Kiryu, E.C. Peters, P.W. Wilson, N. Perry, Y. Waters, K.E. Maxwell, L.K. Huebner, and T.M. Work. 2020. Stony coral tissue loss disease in Florida is associated with disruption of host-zooxanthellae physiology. Frontiers in Marine Science 16 December 2020 | https://doi.org/10.3389/fmars.2020.576013
Gignoux-Wolfsohn, S., W. Precht, E.C. Peters, B. Gintert, L. Kaufman. 2020. The ecology, histopathology, and microbial ecology of a white-band disease outbreak in the threatened staghorn coral, Acropora cervicornis. Diseases of Aquatic Organisms, 137:217-237. 
Bridges, M.C., C.M. Woodley, E.C. Peters, L.A. May, and S.B. Galloway. 2019. Expression and characterization of a bright far-red fluorescent protein from the pink-pigmented tissues of Porites lobata. Marine Biotechnology, 22(1):67-80. DOI 10.1007/s10126-019-09931-9. 
Miller, M.W., P.J. Colburn, E. Pontes, D.E. Williams, A.J. Bright, X.M. Serrano, and E.C. Peters. 2019. Genotypic variation in disease susceptibility among cultured stocks of elkhorn and staghorn corals. PeerJ DOI 10.7717/peerj.6751. 
J.G. Klinges, S.M. Rosales, R. McMinds, E.C. Shaver, A.A. Shantz, E.C. Peters, M.E., G. Wörheide, K.H. Sharp, D.E. Burkepile, B.R. Silliman & R.L. Vega Thurber, 2019. Phylogenetic, genomic, and biogeographic characterization of a novel and ubiquitous marine invertebrate-associated Rickettsiales parasite, Candidatus Aquarickettsia rohweri, gen. nov., sp. nov. The ISME Journal DOI 10.1038/s41396-019-0482-0.
Bachman, B.A., R. Kraus, C.T. Peterson, R.D. Grubbs, and E.C. Peters. 2018. Growth and reproduction of Echeneis naucrates from the eastern Gulf of Mexico. Journal of Fish Biology 93:755-758. DOI 10.1111/jfb.13790.  
J. Daly, N. Zuchowicz, C.I. Nuñez Lendo, K. Khosla, C. Lager, E.M. Henley, J. Bischof, F.W. Kleinhans, C. Lin, E.C. Peters, & M. Hagedorn. 2018. Successful cryopreservation of coral larvae using vitrification and laser warming. Scientific Reports 8:15714. DOI:10.1038/s41598-018-34035-0.
E.C. Peters, 2016. Anatomy, in Diseases of Corals, (C.M. Woodley, C.A. Downs, A.W. Bruckner, J.W. Porter & S.B. Galloway, eds.), John Wiley & Sons, Hoboken, New Jersey, pp. 85-107.
FELLOW, American Association for the Advancement of Science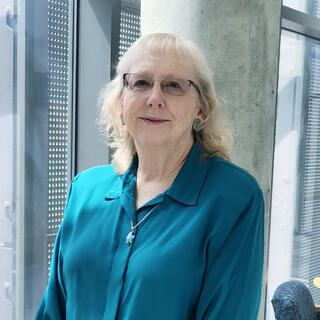 Name

Esther Peters

Job Title

Professor

Director, Histology Laboratory

Graduate Program Director

Coral Diseases, Comparative Histopathology, Aquatic Toxicology

Email

Phone Number

Office Number

David J. King Hall, Room 3050, MSN 5F2