What is the Arboretum?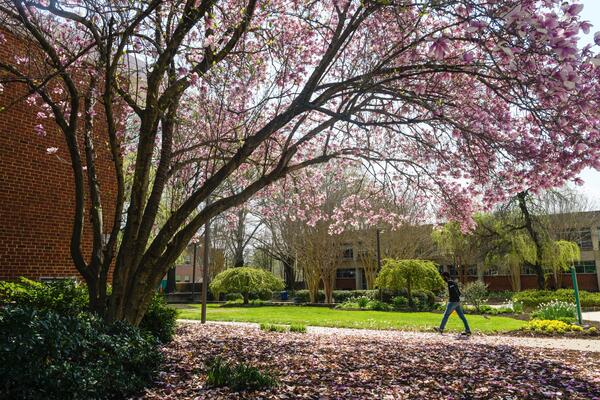 The George Mason University Arboretum cultivates curiosity, education, and well-being through stewardship of its trees, gardens, and other natural spaces.
The George Mason University Arboretum was established in 2015, earned ArbNet Level II accreditation in 2021, and is distributed across 900+ acres of the university's campus sites in Northern Virginia. The Arboretum strives to be an exemplar of horticultural and arboricultural excellence reflecting the university's education, research, and service missions, as well as its commitment to environmental sustainability. Mason's participation in the ArbNet community provides us with a framework for managing our living, green infrastructure while sharing knowledge and resources with arboretum professionals around the world.
The George Mason University Arboretum features more than 100 different, signed species of native and non-native trees and shrubs, as well as interpretive gardens. The species are interspersed throughout the largely forested campus sites to encourage the public and the campus community to develop awareness about plant biodiversity and the interconnection between environmental health and human well-being. The Arboretum expands the university's living lab offerings and supports formal learning inside and outside the classroom while enriching informal opportunities for learning about trees, horticulture, and environmental stewardship.
For more information about the Arboretum or other research opportunities, please contact Dr. Andrea Weeks, from the Department of Biology. 
Where is it?
The Arboretum is spread across multiple campuses of the university in Northern Virginia. Plants are labeled with interactive signs, each with a QR code that links to the website entry for that unique species on the Arboretum website.
Fairfax, Science & Technology, Point of View, and Potomac Science Center campuses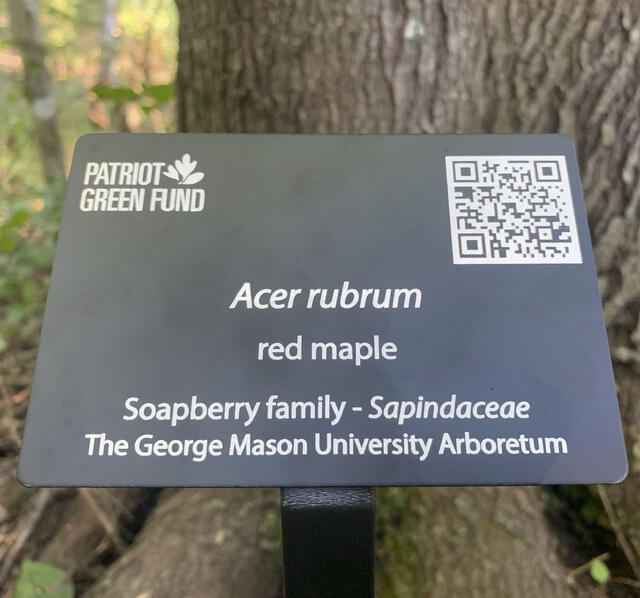 What is the History of the Arboretum?
Faculty and students in the Department of Biology began this project in 2015 with support from the Patriot Green Fund as an opportunity to educate the broader Mason community about the biological diversity of the George Mason University campuses and its value for the ecosystem and human health. Additional support from the Patriot Green Fund in 2019 established collaboration among faculty, staff, and students across multiple administrative units that facilitated external accreditation. For this effort, the George Mason University Arboretum team was awarded a 2021 Seeds of Change award for outstanding community engagement by the Mason Social Action and Integrative Learning (SAIL) Program.
Mason's Iconic Cherry Blossoms and Arboretum