Experiment with matter to learn how and why substances combine, interact, and change.
An undergraduate degree in chemistry is a powerful degree which can start you on many different career paths. 
The BS in Chemistry is recommended for students who are planning professional careers in chemistry or chemistry related fields or who are intending to pursue postgraduate studies in chemistry after graduation. The BS is certified by the American Chemical Society as meeting the necessary criteria for a professional baccalaureate degree in chemistry. 
Scroll down to view concentration options.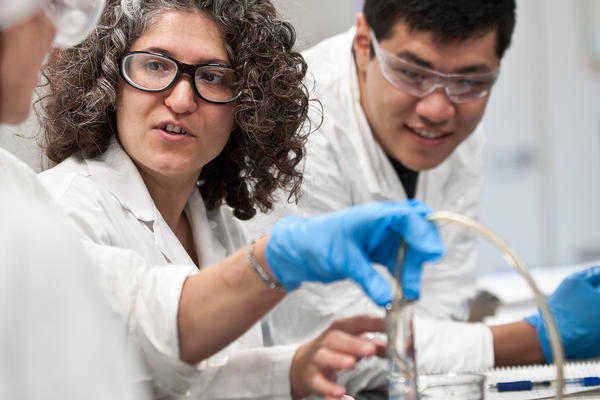 Program Highlights
Upon completion, students who choose either the BS in Chemistry with no concentration or with the Analytical Chemistry concentration are certified to the American Chemical Society.
Students who have a keen interest in sustainability should choose the Environmental Chemistry concentration.
Course Catalog
Review admission and course requirements for this degree:
Concentrations
All Chemistry and Biochemistry majors have the option to choose no concentration, or select from one of the available concentrations below.
Biochemistry Concentration
The BS/Biochemistry option is recommended for students who are planning professional careers in biochemistry, biological chemistry, molecular biology, biotechnology, or other biomedically related field with a chemistry emphasis. It also meets the requirements for entrance to medical and other professional schools. 
View in Course Catalog
Analytical Chemistry Concentration
The Analytical Chemistry concentration is designed to introduce and train students in modern aspects of analytical chemistry. Students who choose this program will be well-prepared to run sophisticated analytical instruments in industry and research laboratories and to pursue an advanced degree specializing in analytical chemistry.
View in Course Catalog
Environmental Chemistry Concentration
Students who chose the Environmental Chemistry concentration will have a broad knowledge of chemistry and a firm foundation in atmospheric, aquatic, and soil environmental sciences. The major prepares students to work in the public or private sector as environmental chemists as well as to pursue an advanced degree.
View in Course Catalog
ACS Accreditation
The Chemistry and Biochemistry Department at Mason is accredited by the American Chemical Society, the largest professional society in the world.