This page contains information on upcoming events in the department and how to RSVP.
The Biology department hosts a variety of events year-round.  From orientation to graduation, the department wants to enrich and enhance the lives of our students, future students, and alumni. 
If you have an idea for an event, please reach out to us at biology@gmu.edu. We welcome all ideas and want you to be involved.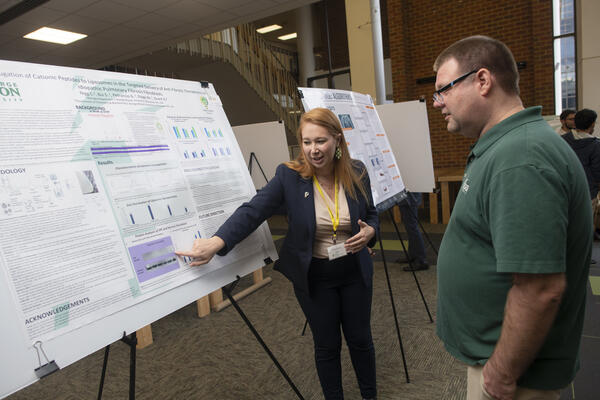 Biology Seminar Series - Spring 2022
March 11th, 2:00pm - Dr.

John Swaddle, William and Mary University

 - RSVP Here
Dr. Swaddle is the Faculty Director of the Institute for Integrative Conservation and Professor of Biology, at William & Mary. He studies how human alteration of the environment affects wildlife and how human society is dependent on and part of the natural world.
Genetics Seminar Series
The Department of Biology is hosting seminars as part of our search for our Tenure Track Genetics Professor. No RSVP required. Please join us for the following seminars:
---
Friday January 28th, 2pm – Dr. Brittany Sutherland.  EXPL 3301
 Talk title: "Ancient Duplications to Instant Speciation: How Polyploidy Affects Plant Evolution." Brittany is the Program Manager of the Consortium for Plant Invasion Genomics (CPING) at the University of Louisiana at Lafayette
---
Tuesday February 1st, 12pm – Dr. Andrew (Drew) Thompson. EXPL 3301
Talk title: "The Genomics of Eco-Evo-Devo in Fishes." Drew is a Post-doctoral Research Associate in Dr. Braasch's lab in the Department of Integrative Biology at Michigan State University.
---
Friday February 4th, 2pm – Dr. Milton (Mickey) Drott.  EXPL 3301
Talk title: "Population genomics of fungal toxins reveals dynamic evolution of pathogenic and invasive fungi."  Milton is a Post-doctoral Research Associate in Dr. Nancy Keller's lab in the Department of Bacteriology at the University of Wisconsin – Madison.
---
Friday February 11th, 2pm – Dr. Saima Shahid. EXPL 3301
Talk title: "A multi-genomic approach for untangling interspecies RNA."  Dr. Shahid is a Simons Fellow completing her postdoctoral training in Keith Slotkin's laboratory at the Donald Danforth Plant Science Center.
Biology Seminar Series
September 24th, 2:30pm - Dr. John Cooley, UConn - RSVP Here
While it might seem as though periodical cicadas are the world's most inconvenient study organisms, it turns out that they are ideal for asking some basic evolutionary questions.  Dr. John Cooley has been interested in periodical cicadas since he was an undergraduate, and this talk will highlight some of the insights these insects can provide.
October 29th, 2:30pm - Dr. Daniel Nicholson, GMU Philosophy Department - RSVP Here
Seminar on Philosophy of Biology
Cancelled - November 5th, 2:30pm - Dr. Danielle Edwards, UC Merced 
This event has been cancelled. To learn more about Dr. Edwards and their research on Molecular Ecology/Behavioral Ecology of Reptiles, please see their Speaker Website.
November 12th, 2:30pm - Dr. Sarah Boyle, Rhodes University - RSVP Here
Seminar on behavior, ecology, conservation biology, remote sensing and GIS in order to address how anthropogenic changes to the environment affect the distribution, persistence, ecology, and future viability of fauna and flora.
November 19th, 2:30pm - Dr. Virginia Edgcomb, Woods Hole Oceanographic - RSVP Here
Seminar on marine microbial ecology in anoxic & micro-oxic environments.
Welcome2Mason Biology AMA


September 10th, 2021, 1:30pm-2:30pm
All attendees must register in advance for this meeting: Zoom Registration 
After registering, you will receive a confirmation email containing information about joining the meeting.
Want to ask a question and earn more chances at prizes?
Ask here!
Let's celebrate the start of the semester! Join us at our panel featuring Biology Department Professors and Researchers as we answer your questions. 
Presenters:
Dr. Anneke DeLuycker,
Conservation Studies Faculty,
Smithsonian Mason School of Conservation (SMSC)
Dr.GeraldineGrant,
Chair
Dr. Charles Madden,
Associate Chair and Advisor
Dr. Alexandra Masterson,
A&P Faculty and Pharmacist
Students who participate will have a chance to win 3 prizes:
3rd Prize: We're giving away Three Roku Expresses (4K+ 2021 | Streaming Media Player HD/4K/HDR with Smooth Wireless Streaming and Roku Voice Remote with TV Controls, Includes Premium HDMI Cable)
2nd Prize: We're giving away Two Beats Flex Wireless Earbuds (with Apple W1 Headphone Chip, Magnetic Earphones, Class 1 Bluetooth, 12 Hours of Listening Time, Built-in Microphone – Black)
Grand Prize: We're giving away One Razer Kiyo Streaming Webcam: (with Built-in Ring Light w/ Adjustable Brightness - Built-in Microphone - Advanced Autofocus - 1080p 30 FPS / 720p 60 FPS)
Event Rules:
Students must RSVP to attend and be entered into the raffle.
Students are encouraged to ask questions and will get an additional entry into the raffle.
Questions close Thursday, September 9th, 2021.
Students must be in attendance to win prizes. Inappropriate questions will immediately disqualify participant.