This page lists general Mason resources to help graduate students secure funding. 
Looking for an external graduate fellowship? A job in your field?
Check out a curated listing of opportunities especially for our ESP students here:  https://science.gmu.edu/academics/departments-units/environmental-science-policy/quick-links/fellowships-internships
---
Funding by the Department of Environmental Science and Policy
Image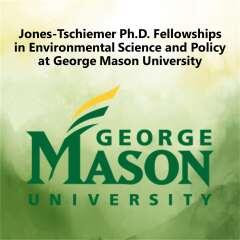 Jones-Tschiemer PhD Fellowships 
https://science.gmu.edu/media/jones-tschiemer-phd-fellowships-esp
First award recipients will begin in Fall 2023.  Apply by April 14, 2023.
Ann C. Powel Scholarship 
https://science.gmu.edu/media/ann-c-powel-scholarship-2022 
Next application cycle: TBA
Becker Graduate Fellowship
Each semester, the application window for the following semester's Becker Fellowship will be announced by the Department's Graduate Program. Graduate students are invited to apply to receive this award which is made possible through a generous endowment by Catherine Z. and Richard J. Becker. Award decisions are made by the Department and are competitive. Recipients receive financial support while they learn, teach, and conduct research. Application for this fellowship is open every spring semester for the upcoming academic year beginning in the fall.
Eligibility and Application instructions:  https://science.gmu.edu/media/becker-fellowship-application-2022-23
Next application cycle: TBA
Teaching Assistantships
To apply, please download the 2022-23 Teaching Assistantship Application form and follow the instructions on the form.
Next application cycle (2023-24): TBA
Graduate teaching assistants support the department by engaging in activities related to teaching. These activities include: teaching sections of courses or labs, supporting instructors teaching large sections, tutoring, and advising. Teaching assistantship awards may or may not come with a tuition waiver. The ESP and Biology departments offer a limited number of teaching assistantship opportunities to qualified students each year. All teaching assistants are evaluated from year to year; renewal is not an automatic process.
Graduate Teaching Assistants (GTAs) will be selected based on qualifications in the subject matter and teaching experience. GTA appointments will be made after review by the ESP Graduate Executive Committee, a faculty member coordinating the course in question, the Chair/Director of the appropriate undergraduate or graduate program, and Chair of the Department.
GTAs generally teach laboratory sections in undergraduate courses. Examples of courses are Introductory Biology for Non-majors, Environmental Biology, Introduction to Environmental Science, Biological Diversity and Ecosystems, Microbiology, Environmental Policy Making in Developing Countries, Biostatistics, Human Anatomy & Physiology, Cell Biology, Genetics, and Biodiversity, & Evolutionary Ecology. 
---
George Mason University Resources
Graduate Fellowships
George Mason University understands that one key way to increase the accessibility of graduate education is to help students secure financial support for research, fieldwork, writing, professional development or related activities. The Office of Graduate Fellowships assists master's and doctoral students in identifying the full range of appropriate opportunities and preparing for extramural fellowship competitions.
The Office of Graduate Fellowships offers a variety of electronic tools to help students search for appropriate fellowships and provides direct assistance in developing fellowship applications, as well as collaborating with faculty and staff to support students through departmental and college activities.
Office of the Provost
Dissertation Completion Grants are awarded by the Office of the Provost to doctoral students in the final semester of their dissertation. This grant enables them to focus full time on research and writing, improving the quality of their work, and shortening the time to complete their degree. Please see ALL graduate education funding opportunities from the Office of the Provost at https://provost.gmu.edu/academics-and-research/graduate-education/awards-and-grants.
Graduate Student Travel Fund
The Graduate Student Travel Fund was created for the purpose of facilitating its students' development outside the classroom. Funding is provided on a competitive basis for students to present at conferences.
The Environmental Science and Policy Graduate Student Association (ESP-GSA) also offers travel grants to support ESP-GSA members who are presenting at conferences. See the ESP-GSA page for information about eligibility and how to apply.
Student Financial Aid 
Financial Aid eligibility is based on several criteria.  Students must be enrolled at Mason in a degree program to receive financial aid.  Grants are available only during the fall and spring semesters.  Federal and private loans may be used for summer enrollment.  Students who study abroad may receive the same financial aid as if they were studying on campus. Students must be enrolled at least half-time to be eligible for federal loans and the majority of grant funds.  Full time for graduate students is 9 or more credit hours.  Students must make satisfactory academic progress in order to maintain eligibility for financial aid.  Students must be US citizens, permanent residents, or meet other criteria to receive financial aid.  Male US citizens and non-citizens living in the US, ages 18-25 must register with the Selective Service in order to be eligible for financial aid. For full details, and to apply, visit Financial Aid Services.