We're glad you're considering continuing your education at Mason's College of Science
Did you know that more than a third of our College of Science undergraduate students are transfers? We are proud to offer innovative, transfer-focused programs and events to jumpstart your STEM transfer success story!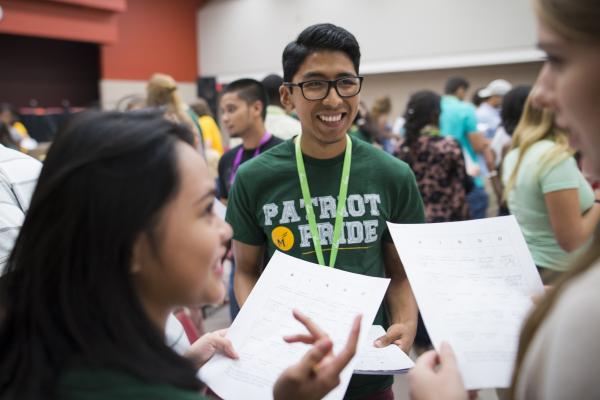 Featured Event: Transfer Tuesdays, Ask Me Anything (AMA) Sessions
Join Kerin Hilker-Balkissoon, Director of Educational and Career Pathways, for virtual, group drop-ins on Tuesday afternoons. 
For individual advising appointments, sign up here. 
Questions? Contact: Kerin Hilker-Balkissoon Director, Educational and Career Pathways khilkerb@gmu.edu
Transfer Pathways to Success
Academic Affairs Community of Transfer Researchers (AACTR)
Transfer Students, do you want to pursue scientific research while at Mason but don't know where to start? Apply to this interdisciplinary learning community and connect with fellow transfer researchers as you navigate the many STEM research opportunities available at Mason and beyond. AACTR Scholars receive:
Exclusive access to AACTR seminars and faculty/peer mentoring
Priority enrollment in COS 300 and COS 400 courses
Support with navigating undergraduate research and internship opportunities both on- and off-campus
Assistance with career planning and the graduate and professional school admission process
Interested students must complete an online registration form. 
Transfer Tuesdays
Are you a prospective or incoming transfer student to Mason's College of Science (COS)? COS Transfer Tuesdays is your one-stop destination for COS transfer planning.
Registration is available above. If you're interested in a 1:1 transfer planning appointment, sign up here.
Let's Talk Transfer (Coming Soon!)
Coming soon in Fall 2020!
STEM Transfer Day
Prospective STEM transfer students, take advantage of this unique opportunity to explore Mason as a premier STEM transfer destination. At STEM Transfer Day you will:
Meet our award-winning STEM faculty and Transfer Ambassadors
Explore Mason's academic programs and vibrant student research community
Learn about 21st Century career pathways in STEM
Tour our beautiful Fairfax Campus, including our top-tier STEM labs and facilities
Enjoy free parking and lunch
The next STEM Transfer Day will take place in Spring 2021.
Transfer Science Bridge Webinar Series
These interactive webinars equip new College of Science transfer students with the skills and knowledge for STEM success at Mason. 
The Spring 2021 dates will be announced this fall. 
NOVA/Mason ADVANCE Program
The College of Science is proud to offer ADVANCE pathways for all of our undergraduate programs. For more information, visit the NOVA/Mason ADVANCE program page.
You can find additional information about transferring to Mason through the Office of Transfer Services. 

If you have questions about our transfer programs, or if you would like additional information, please contact Kerin Hilker-Balkissoon, Director of Educational and Career Pathways, at khilkerb@gmu.edu.