Transfer Equity and Success
We're glad you're considering continuing your undergraduate education at Mason's College of Science
Did you know that more than a third of our College of Science undergraduate students are transfers? We are proud to offer innovative, transfer-focused programs and events to jumpstart your STEM transfer success story.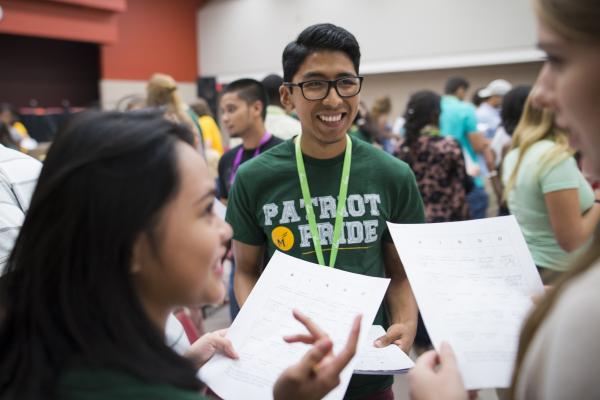 Transfer Pathways to Success
Transfer Science Bridge
Pave your pathway to success as a first-semester Mason Science transfer student! Join us for one of our upcoming, interactive bridge sessions that build on what you learned in New Student Orientation and fully prepares you for life as a Mason Science student. 
Transfer Science Bridge Agenda:
Your GPS to STEM Success: Navigating Mason as a Science Scholar

Get Lab-Ready: Explore Mason's Lab Rules & Reporting 

New Transfer Q&A
Choose from two session options: In-person session on August 12 from 10:30 am-12:00 pm, or a live webinar on August 18 from 6:00 – 7:15 pm. Both sessions include interactive Q&A. Can't make a live session – you can still register and select the asynchronous option to view the session recording.
Register for a Fall 2022 Transfer Science Bridge here
Mason Science Transfer Ask Me Anything (AMA) Sessions
Planning to transfer into a degree program in Mason's College of Science?  Exploring Mason Science as your future transfer destination?  Get your questions answered and the STEM transfer planning info you need at a Mason Science Transfer Ask Me Anything (AMA) Virtual Session. 
Upcoming Sessions:
Friday, August 26: 12:00 – 1:00 pm
Tuesday, September 6: 5:00 – 6:00 pm
Monday, September 19: 9:30 – 10:30 am
Thursday, September 29: 6:00 – 7:00 pm
Wednesday, October 19: 11:00 – 12:00 pm
Monday, November 14: 9:30 – 10:30 am
To Register, click here.
Still have questions?  Check out our Science Transfer Planning Appointments below to sign up for a one-on-one transfer planning session. 
MasonScience Transfer Planning Appointments
If you attended an AMA session and still have questions about transferring into a degree program offered by Mason's College of Science, if you're a new transfer student who needs some guidance, or if you just prefer to connect with our Mason Science transfer specialist one-on-one, our Transfer Planning Appointments are for you!  Sign up here. (day and evening appointments available).
Scientific Community of Transfer Researchers (S-CTR)
Transfer Students, did you know that undergraduate research is among the most important career development experiences for STEM majors?  In fact, most STEM graduate or health professions programs list multiple undergraduate research experiences as a key admissions requirement. 
Ready to start your STEM research journey?  Apply to join the Scientific Community of Transfer Researchers, a FREE interdisciplinary learning community exclusively for undergraduate transfer students in College of Science majors and minors. S-CTR scholars connect with peer and faculty mentors and other transfer students to successfully network and navigate Mason's robust, Carnegie Research 1 scholarly community. Join S-CTR to receive:
Exclusive access to S-CTR seminars and faculty/peer mentoring.

Priority enrollment learning community courses with embedded, full semester research experiences.

Support with finding and applying for undergraduate research and internship positions.

Faculty and peer mentoring to support career planning, including graduate/health professions admissions.
Interested students must complete an online application form.  Limited slots are available, so apply today!
UNIV 302: College of Science Transfer Transition
We know it can be stressful to start at a new university, building new faculty and peer relationships, navigating campus and course resources, and the extra time and energy required to acclimate to a new environment and upper-level classes.  Transfer shock is a documented phenomenon, with transfer students experiencing an overall drop in GPA their first semester of university study.
The College of Science is here to help!  In both Fall and Spring semesters, we offer a 0-1 credit section of UNIV 302, College of Science Transfer Transition.  This is NOT a repeat of your freshman college success course! Connect with other new transfer students in a synchronous, online class, and explore academic and career resources and well-being supports that are essential to transfer student success.  Ask your orientation/pre-orientation advisor about registering for UNIV 302 in your first semester at Mason, or self-register on PatriotWeb.   
VCCS Collaborative STEM Transfer Advising
Virginia Community College students and advisors: Check in with a COS transfer specialist to plan your pathway to Mason's College of Science!  Choose the best option: 1) Collaborative Planning Session (Joint meeting with Student & VCCS Advisor); 2) VCCS Advisor Collaboration (Advisor-Specialist Session).  Sign up here.
STEM Transfer Day
Students are raving about STEM Transfer Day!
"I enjoyed everything about the STEM Transfer Day event, from logistics to sessions, lunch and souvenirs"
"Excellent experience.  Well-planned and engaging."
"I ended up falling in love with the campus and what it has to offer."
Future STEM transfer students and community college advisors, join us for our annual STEM Transfer Day and explore our transfer-inclusive university. Learn more about George Mason's Carnegie Research 1-ranked, transdisciplinary STEM programs, visit our cutting-edge labs, investigate research and internship opportunities, meet Mason STEM faculty and transfer students, win prizes, and more! 
Our next in-person STEM Transfer Day event will be held in April 2023.  Registration will open in late-January 2023
You can find additional information about transferring to Mason through the Office of Transfer Services. 

If you have questions about our transfer programs, or if you would like additional information, please contact Kerin Hilker-Balkissoon, Director of Educational and Career Pathways, at khilkerb@gmu.edu.