Transfer Equity and Success
We're glad you're considering continuing your undergraduate education at Mason's College of Science
Did you know that more than a third of our College of Science undergraduate students are transfers? We are proud to offer innovative, transfer-focused programs and events to jumpstart your STEM transfer success story.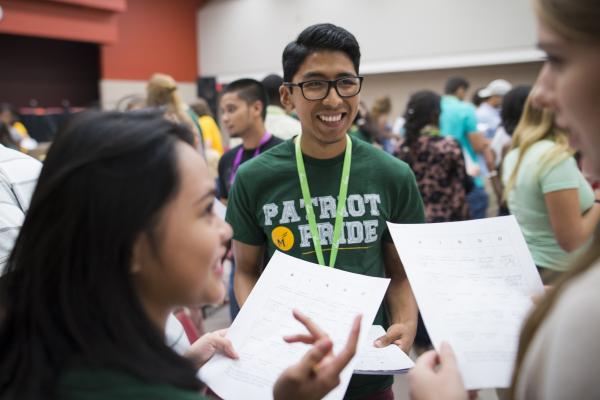 Transfer Pathways to Success
STEM Transfer Day
STEM Transfer Day: April 21, 2023
Register HERE for STEM Transfer Day 2023!
When: April 21 – 10 am to 2 pm
Where: George Mason University, Fairfax Campus
Students are raving about STEM Transfer Day!
"I enjoyed everything about the STEM Transfer Day event, from logistics to sessions, lunch and souvenirs."
"I ended up falling in love with the campus and what it has to offer."
Join Mason's College of Science, College of Engineering and Computing, and College of Public Health to explore our transfer-inclusive community, and learn more about George Mason's Carnegie Research 1-ranked, STEM and Health programs. Explore cutting-edge STEM facilities, research, and internship opportunities; connect with Mason STEM faculty and transfer students; win Mason swag and other prizes, and more! 
Free event parking and lunch provided.  Round trip transportation is available from Germanna and Laurel Ridge Community Colleges. Slots are limited – register early!
Our next in-person STEM Transfer Day event is on April 21, 2023.  Registration is now open at https://science.gmu.edu/stemtransferday.
Mason Science: Transfer Bootcamp
Pave your pathway to success as a first-semester Mason Science transfer student! Join us for one of our upcoming, interactive bootcamp that builds on what you learned in New Student Orientation and fully prepares you for life as a Mason Science undergraduate scholar.
New Transfer Bootcamp Agenda:
Your GPS to STEM Success: Navigating Mason as a Science Scholar

Get Lab-Ready: Explore Mason's Lab Rules & Reporting

New Transfer Q&A
The next Transfer Bootcamp will be held on January 19, 2023 from 4:30-5:45 pm. Students who cannot attend the live session may register for the asynchronous option to receive a link to the session recording.  Click HERE to register.
Ask Me Anything (AMA): STEM Transfer Edition
Confused about the transfer process? Ask our Mason Science's STEM transfer expert, Kerin Hilker-Balkissoon, anything you want to know about transferring to Mason as a STEM scholar.    
Explore our STEM degree options, get transfer planning tips, and course recommendations.

Understand the different transfer pathways from Virginia Community Colleges, and how to transfer from other colleges/universities.  

Learn about STEM career readiness – including research and internships.

Investigate scholarships and resources for future STEM teachers, premeds and other future health professionals.
When:
First Thursday of each month: 4-5 pm*

Third Wednesday of each month from 9-10 am*
Please RSVP HERE for Zoom Link.
* AMA Sessions are canceled on federal/Virginia holidays, or other dates the university is closed.  Other schedule changes will be noted below:
9:00 am January 2023 Session will be hosted on Wednesday, January 4, 2023.  
STEM Transfer Pathways Appointments
Scientific Community of Transfer Researchers (SCTR)
Transfer Students, did you know that undergraduate research is among the most important career development experiences for STEM majors?  In fact, most STEM graduate or health professions programs list multiple undergraduate research experiences as a key admissions requirement. 
Ready to start your STEM research journey?  Apply to join the Scientific Community of Transfer Researchers, a FREE interdisciplinary learning community exclusively for undergraduate transfer students in College of Science majors and minors. SCTR scholars connect with peer and faculty mentors and other transfer students to successfully network and navigate Mason's robust, Carnegie Research 1 scholarly community. Join SCTR to receive:
Exclusive access to SCTR seminars and faculty/peer mentoring.

Priority enrollment learning community courses with embedded, full semester research experiences.

Support with finding and applying for undergraduate research and internship positions.

Faculty and peer mentoring to support career planning, including graduate/health professions admissions.
Interested students must complete an online application form.  Limited slots are available, so apply today!
Career Ready Transfer STEMinars
VCCS Collaborative STEM Transfer Advising
Virginia Community College students and advisors: Check in with a COS transfer specialist to plan your pathway to Mason's College of Science!  Choose the best option: 1) Collaborative Planning Session (Joint meeting with Student & VCCS Advisor); 2) VCCS Advisor Collaboration (Advisor-Specialist Session).  Sign up here.
You can find additional information about transferring to Mason through the Office of Transfer Services. 

If you have questions about our transfer programs, or if you would like additional information, please contact Kerin Hilker-Balkissoon, Director of Educational and Career Pathways, at khilkerb@gmu.edu.