Mason Environmental Alumni Network
We are excited to announce that the Mason Environmental Alumni Network is now active and open to any interested Mason alumni. Our goal is to build a community of Mason alumni, from both inside and outside the College of Science, who are pursuing careers and other opportunities to help our environment, ecosystems, sustainability, climate, and related things we cherish. The goals of this community are to improve the sharing of ideas and resources, increase collaboration and change-making capacity, and provide encouragement, support and mentorship for current students and life-long alumni learners. If you are interested in joining, please fill out this information form here. Questions? Email committee chair, Emma Gregory at ecoalumn@gmu.edu .
Alumni Spotlight: Dr. Patrick O'Neil
Dr. Patrick O'Neil is the Chief Data Scientist at BlackSky, a global monitoring firm leveraging high resolution satellite imagery and advanced artificial intelligence to map global activity in real-time. In this role at BlackSky, he is responsible for building BlackSky's analytics business and developing cutting edge artificial intelligence systems. A a strong proponent of STEM education, Patrick teaches university courses on machine learning for remote sensing and is an advisor to the Virginia Department of Education's data science initiative.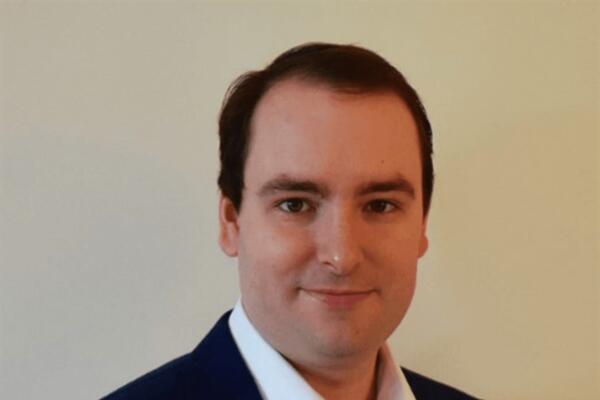 Frequently Asked Questions
What is the COS Alumni Chapter?
The College of Science (COS) Alumni Chapter was established in January 2014 as a conduit for graduates, families, and supporters of the college to network and discover new business and professional relationships and opportunities. Our goal is to strengthen our professional link and community between our alumni, industry and current students.
What kind of events does the chapter host?
The chapter hosts several events throughout the year to help build the College of Science community and our professional relationships. The DC area Alumni Chapter has hosted regular happy hours, Science Industry Networking with University Career Services, and annual Alumni Weekend events.
How can I get involved?
Whether you are an alumnus/a or student, please e-mail our Chapter via cosalum@gmu.edu.
We always welcome additional committee participation and student liaison representatives!
Join the conversation: use #MasonScience to talk about your COS experiences and related news.
Am I a member?
Yes! If you graduated from a COS program, from the dawn of the University and onward, you are automatically a COS alumni chapter member. We welcome the participation of both current and future alumni. Bonus note: Chapter membership is free!
How do I hear more about events?
Opt-in to the University Alumni community at alumni.gmu.edu
Sign up for the listserv at cos.gmu.edu/alumni
Website: cos.gmu.edu/alumni
Twitter: @GMU_COS
Chapter Board Officers
Board Members:
President: Mark Monson, BS Biology '74
Vice President: Paul Lewis, PhD Environmental Science and Public Policy '05
Treasurer: Adam Carpenter, PhD Environmental Science and Public Policy '19
 
Members-At-Large
Richard Friesner, PhD Environmental Science & Public Policy '15 
Michelle Ryan, PhD Environmental Science & Public Policy '15 
Nick Walker, BA Integrative Studies '09; PhD Environmental Science & Public Policy '19
Taylor Sarget, BS Physics '14 (President Emeritus)
Committee Chairs
Emma Gregory, BS Environmental Science '20 : Mason Environmental Alumni Network (MEAN) Committee
How can I stay in touch with my classmates and with the College of Science community?
The College of Science has multiple ways for alumni to stay connected:
The College of Science LinkedIn group – Stay connected with classmates via the COS Alumni and Friends Network. Share articles, and discuss new research and developments in health, physical, and computational sciences.
Alumni Online Community – The University's Alumni Online Community includes an alumni directory to help you search for classmates, and view class notes. Stay informed of your classmates' accomplishments, and submit news of your own.
What College of Science publications will I be able to access?
The Scroll – The University Alumni Newsletter monthly email
MasonScience Annual Report – The annual report for the College of Science 
How can I submit a class note for the website and Alumni Newsletter?
We are happy to publish news and announcements of both a professional and personal nature. Please use the Alumni Class Notes form to submit your updates. Your note may be edited before publication.
Where can I update my contact information?
Alumni and Friends Newsletter Archive
The College of Science Development and Alumni Relations Team with periodically send out a newsletter to alumni, friends, and community partners with updates about Mason Science. See past editions below, and if you'd like to be added to the list to receive this newsletter please email us at cosalum@gmu.edu .