Undergraduate Research Colloquium
General Event information
The College of Science and STEM Accelerator invite undergraduate students to participate in the Annual Undergraduate Research Colloquium (URC).  The purpose of this event is to showcase the variety of undergraduate research projects in the College to the Mason community.  All students engaged in undergraduate research at any level in any academic unit within the College of Science are encouraged to participate.
Location: Gather.town virtual conference
Date: Wednesday May 3, 2023
Time: 1:30-3:30pm
Schedule:
1:30pm Opening Remarks
1:30-2:30pm Odd Numbered Posters
2:30-3:30pm Even Numbered Posters
3:30pm Closing
Abstracts
View the full list of abstracts from the 2023 Undergraduate Research Colloquium. 
Want to attend?
Submit your name and email HERE. Login information will be sent in the days preceding the Colloquium. 
Instructions for Students
To present at this event, you first need to submit an abstract of your research. An abstract is a short summary (<1000 characters) of your scholarly project. For this event, it is ok if your work is not finished and conclusions are speculative at the time of abstract submission. Work with your mentor to effectively communicate your scholarly question, what you have done to answer it, what results you have obtained/anticipate, and what those results mean in the appropriate context. Your abstract should be written with an interdisciplinary scientific audience in mind.  Other important details:
It is your responsibility to ensure your research mentor has reviewed and approved the abstract prior to submission.

The list of authors should be in the same order that you intend to display on your poster.

Group submissions are welcome; however, posters should only be submitted once.  Indicate the group members who will be present at the Colloquium by placing an asterisk next to their name in the full author list.

Abstracts will be published in an electronic abstract booklet that will be distributed by email to Mason's faculty, staff and students.
To register your project for the COS URC, submit your abstract HERE
Abstract submissions are now closed for 2023. Abstracts for the next Colloquium will begin being accepted in early 2024.  
Poster Details
*Note* For 2023, this event will be virtual. No physical posters will be printed or presented. 
Poster Details
The recommended size for posters for this event is 3ft x 4 ft and in the landscape orientation. You can download the template to be sure you have the correct size and orientation.

Modifications can be made to the boxes on the poster template, which has been provided as an example of what to include on a research poster.

The final poster needs to be an image file, either PDG or JEPG format. From PowerPoint, simply save your poster as a *.png or *.jpg.

Send your completed *.png or *.jpg electronic document to stemcos@gmu.edu

 by TUESDAY April 25, 2023, by 11:59pm.
Download the PowerPoint Poster template HERE
Request for Judges
Mason faculty, research staff, and graduate students are invited to be judges for this event.  Judging will occur during the poster session from1:30-3:30pm. More details will be shared with the judges before the event. If you are interested, please email stemcos@gmu.edu. 
Winners of the 2023 Undergraduate Research Colloquium
The College of Science and STEM Accelerator hosted the Twelfth Annual Undergraduate Research Colloquium (URC) where undergraduate students showcased a variety of research projects from the College of Science to the Mason community.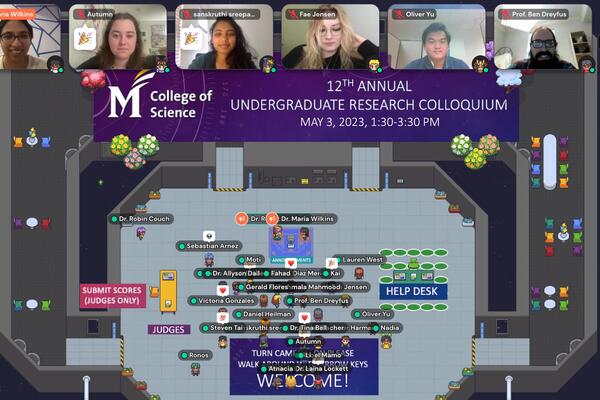 STEM Accelerator
The College of Science Undergraduate Research Colloquium is administrated by the faculty and staff of the STEM Accelerator.