Advancing undergraduate student success
This interdisciplinary collaborative in the College of Science is making a difference for undergraduate students at Mason.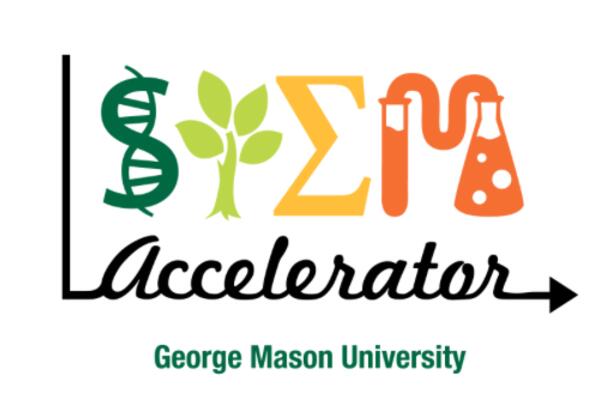 What is the STEM Accelerator?
The STEM Accelerator is an interdisciplinary group of faculty who collaborate on programs, grants, and interventions to help the undergraduate students in the College of Science at Mason. Beginning in 2011, the Accelerator committed to work toward: 
Increasing the number of STEM majors,
Improving retention rates of STEM students,
Reducing the time to graduation,
Helping STEM graduates join the workforce or continue their education.
In 2021, we identified the following 5-year goals: 
Contribute to the growing body of literature on STEM education ​ 

Elevate the value of teaching in COS​ 

Be recognized as educational role models and mentors to new faculty and GTAs in COS 

Mentor MS and PhD students in STEM education and discipline-based education research​ 

Advance pedagogical innovation, teaching assessment, and peer evaluation​ 
The Accelerator faculty have diverse backgrounds, expertise, and training. Their combined efforts contribute to support student learning outcomes and increase persistence in challenging STEM programs. 
Accelerator Activities By Season
Learning Assistant (LA) Program and Seminar
Gem, Mineral & Fossil Show
COS 108: Seminar for Bridge Camp Students
Mentoring GTAs (e.g. IUSE)
LA Conference
STEAM Field and Experiential Learning
STEM Education Research 
LA Program and Seminar
FOCUS MOST
Chesapeake Bay Bowl
Math Counts
Mentoring GTAs (e.g. IUSE)
Regional K-8 Science Fair
STEM Education Research 
LA Program Assessment
STEM Education Research 
Learning Assistants
Learning Assistants (LAs) are College of Science undergraduates who participate in undergraduate instruction, course innovation, peer-to-peer tutoring and mentoring. LAs have unique opportunities to work closely with COS faculty and help their peers.  Learn more here.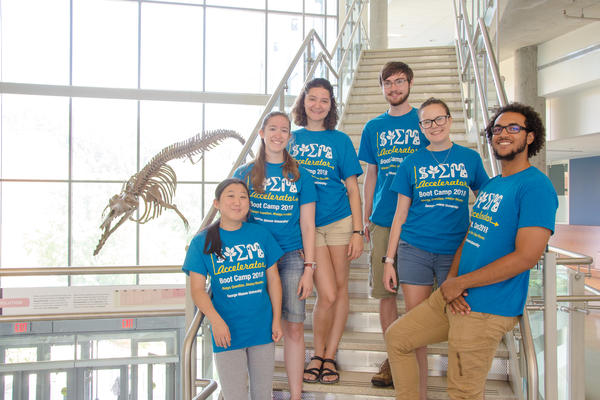 Grants related to STEM Education
Current Awards
Dr. Ben Dreyfus (Co-PI), NSF EAGER #2329874, Quantum Teaching and Learning in Elementary Classrooms, $299,769
Dr. Ben Dreyfus (Co-PI), NSF Award #2044232, Cultivating Physics Identity and Belonging for Women in Physics, $299,001
Dr. Tina Bell (PI) and Dr. Rebecca Jones (Co-PI), NSF Noyce #2050638, Supporting, Mentoring and Retaining New STEM Secondary Educators Through Major Transitions from Recruitment to Highly Effective Teacher, $1,199,552
Dr. Tina Bell and Dr. Rebecca Jones, Strategic Investment Fund 2022 for STEM Bridge Camp, $179,400
Prior Awards
Dr. Rebecca Jones (PI), NSF S-STEM #1564989, The RADSS Program (Rural and Diverse Student Scholars), March 28, 2016 - August 31, 2023, $643,925.00
Dr. Mary Nelson (PI), NSF Noyce #1240031, Noyce in Northern Virginia, October 1, 2012 - June 30, 2021, $1,449,999
Summer Camps
The STEM Accelerator is committed to sharing the excitement and joy of science, engineering and mathematics with the community.  We regularly coordinate camps, workshops, competitions, and seminars designed to increase access and success in STEM.
Learn more about STEM Summer Camps for incoming first-year student and FOCUS for middle and high-school girls.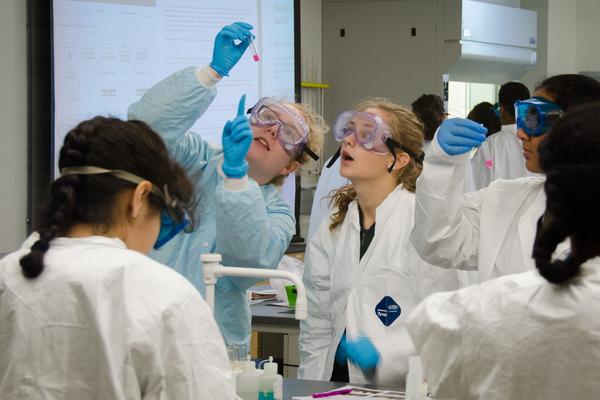 Recent Publications and Presentations
"Encouraging creative chemical communication via infographics", Rebecca M. Jones, Poster Presentation, Gordon Research Conference, Visualization in Science and Education, Bates College, Lewiston, ME, July 17, 2023.

"

The unexpected emotional cost of teaching chemistry in a pandemic",  Rebecca M, Jones,

 Frontiers in Education, STEM Education Section, Vol. 8, March 16, 2023, doi: 10.3389/feduc.2023.1120385, 

https://www.frontiersin.org/articles/10.3389/feduc.2023.1120385/full

"The Rural and Diverse Student Scholars Program: An Ecosystem of and for STEM students
Rebecca M. Jones and Mary Emenike, Poster Presentation, Anti-Racism and Inclusive Excellence Conference, Arlington, VA, October 24, 2022

Bulancea, G., P. Granfield, J. Jauchen, J. Love, M. Nelson, R. Sachs, and C. Sausville.

2021

. A 

community of grassroots leaders: Leveraging faculty networks to create change.

PRIMUS

. 31(3–5): 627–642. February 17, 2021, https://www.tandfonline.com/doi/full/10.1080/10511970.2021.1882016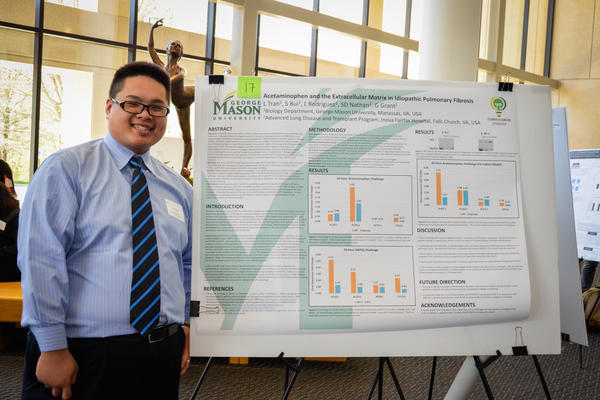 Service to the Community
Dr. Julia Nord

Gem Mineral, and Fossil Show, November 2023

Dr. Kelly Knight

FOCUS Camp and FOCUS Academy

Dr. Tina Bell

Women Leaders in STEM at Mason

Dr. Rebecca M. Jones, 
Who is the STEM Accelerator?
Connect with the STEM Accelerator