All Biology students are encouraged to meet with an Academic Advisor at least once a semester.
Image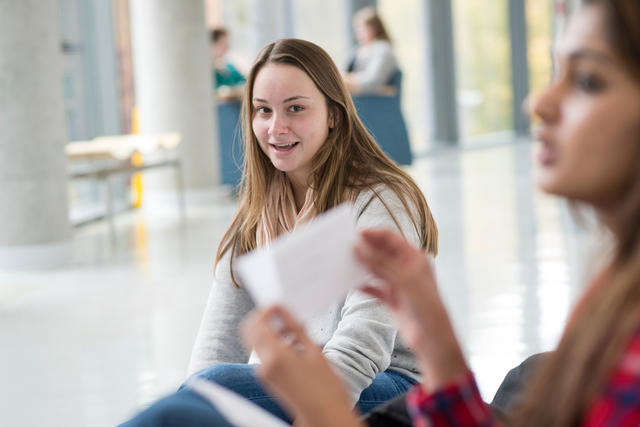 Biology majors and minors are open to meet with any of our advising staff. Through the Navigate Mason (SSC) appointment scheduler and via email inquiry at biology@gmu.edu, 20-minute advising sessions are available on the Fairfax Campus many days of the week.  Options for Drop-In and Online appointments available. 
Prospective Biology Majors should email biology@gmu.edu. We have scheduled and drop-in appointments available.
Making an Appointment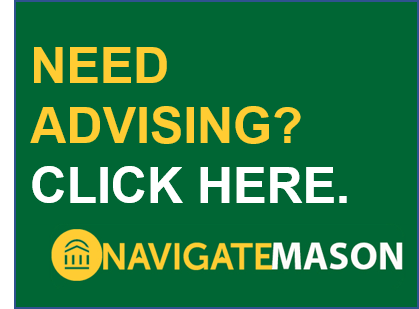 To make an appointment, you must go to NAVIGATE Mason. 
To Make an Appointment using Navigate Mason:
Click the link above.
Enter your GMU NetID and password and select Login.
Submit and confirm your password sharing preference before clicking on "Accept."
Click "Schedule your advising appointment" on the top right
Select College of Science
Select "Biology"
Select "Biology" as the location
Choose the day and time you would like to meet (you may need to skip ahead a few weeks);
Add comments explaining your reason for the appointment;
Click Confirm appointment- You will receive a confirmation email and a reminder email.
If you have any scheduling or technical issues with NavigateMason, general policy/registration questions, or need a form, email biology@gmu.edu. We will also route you to an advisor for an appointment in emergency circumstances.
For special accommodations, SEP/suspensions, academic requests/appeals, and emergency advising, email Dr. Deborah Polayes at dpolayes@gmu.edu.
Checklist for your Advising Meeting
You scheduled your appointment, now what?
Preparing for Online Advising
All academic advising takes place online, in-person advising suspended until further notice. Please follow instructions in email confirmation. Most online advising takes place in the Mason Undergraduate Advising organization in Blackboard.
If you don't have access to the organization, you must request access. We update enrollment at the beginning of each semester. Change of majors must request access to the organization. 
Instructions on how to enroll in Advising Organization available here.
If you are already enrolled or have access, navigate to the Organization and get comfortable. In the organization, look in the sidebar to "Online Advising Appointments". When your appointment arrives, go here and enter the waiting room for your specified advisor. 
Day of appointment
In the organization, look in the sidebar to "Online Advising Appointments". When your appointment arrives, go here and enter the waiting room for your specified advisor. 
If you need to cancel/reschedule an appointment, cancel/reschedule your appointment through the online system or email the advisor directly through Mason NAVIGATE. Alternatively, email biology@gmu.edu to inform our office directly.
Drop In Appointments
Drop in appointments are not available until further notice. All advising will be online and by appointment only.
Drop in appointments are first-come, first-serve. You may not be able to see your regular advisor. The wait for a walk-in appointment may be considerable, especially during busy times of the semester. If your situation is complicated, you may be asked to schedule an appointment with the Undergraduate Director of Advising, Dr. Polayes. Common complicated situations include, but are not limited to, Satisfactory Academic Progress appeals, transfer credits, or late graduation forms.
Helpful tips
Academic advisors can assist you with selecting and changing majors, program planning, credit transfer issues, withdrawals, reviewing degree requirements, course substitutions and waivers, and requests to study elsewhere. Advisors are also available to discuss non-academic issues and may refer you to other student support services. This Student Support Services page created by CHSS has many links for non-academic services including but not limited to learning services, financial assistance, or personal counseling.
Here are some tips to help you make your advising session productive:
Be early and be thoughtful

Review the Academic Calendar to find out registration priority dates.
Avoid the rush, and set up an advising appointment well before your scheduled date to register.
Notify your advisor and the front office staff if you have to cancel the appointment.

Be prepared

Review the Mason catalog for program requirements and prerequisite courses.
Review the Program Planning and Advising Sheet for your major and catalog year.
Review your degree evaluation in Patriot Web. If you are planning to change your major, you will want to do a What-if Analysis. The What-If allows you to see how your credits will transfer into your new major and/or minor.
Review your Mason transcript to make sure all transfer credits appear on the transcript from all colleges and universities attended.
Create an advising folder to keep all of your advising notes while at Mason.

Be informed

Know important deadlines and dates. The Academic Calendar lists important semester dates and deadlines (e.g., first and last day of classes, last day to drop or add a class, last day to request a selective withdrawal (undergraduates only), holiday breaks, reading dates and the semester exam period).
Read the catalog.

What to take to your advising session

Degree evaluation
Preliminary course selection
List of questions
What are the Advising Categories?
Biology Advising falls into a few distinct categories.
Biology Major Advising
Biology Major Advising covers almost all advising topics, always has drop in times and is available every week during Fall and Spring semester by appointment. Summer and Winter break hours are very limited.
Biology- Honors in the Major
Biology- Honors in the Major is by appointment only with Dr. Kocache. This is for admitted Honors in the Major students only, not applicants. Interested in applying to Honors in the Major? Email Dr. Kocache at mkocache@gmu.edu.
Biology Freshman Advising
Biology Freshman Advising is an extension of Biology Major Advising as an introduction to advising. This category is not as expansive as Biology Major Advising.
Declare/change major/minor Advising
Declare/change major/minor Advising are drop in times to change your major. This is not a typical advising appointment. To access Biology Major Advising, you must be a declared Major. You can simply drop in to the office fill out the form. Need an advising appointment before deciding? Email Dr. Polayes, dpolayes@gmu.edu or Dr. Olmo, volmo@gmu.edu, or come to EXPL 1200.
Medical Laboratory Science Advising
Medical Laboratory Science Advising is by appointment only with Dr.Verhoeven. This is for admitted MLAB students only. Interested in changing majors or learning more? Email Dr. Verhoeven, averhoev@gmu.edu for an appointment.