College of Science Learning Community
Connect with other students of similar interests and goals.
The College of Science's Learning Community (LC) is a unique opportunity to interact with other students and faculty in an interdisciplinary community focused on scientific inquiry, cutting-edge research, and global problem solving. This year's theme will center around scientific inquiry and global problem solving. 
The LC offers learning and engagement experiences in and out of the classroom. You will take part in a number of initiatives to impact your academic and personal development while also making connections with your peers. 
Why join a learning community? 
Image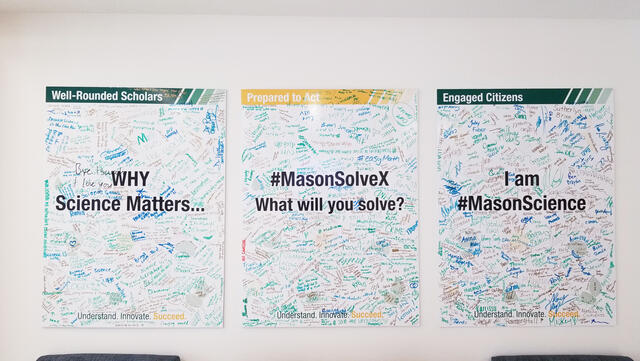 Build a cohort of like-minded individuals engaged in their passion in and out of the classroom 
Make connections with other students, both academically and socially 
Attend events and programming tailored to the Mason Science LC by content experts 
Access academic resources and support from faculty, tutors, and campus resources
Find mentorship from upper-level students in many of the LCs who have experience in the LC topic 
Required College of Science LC Course
You must register for COS 100 for the Fall 2021 semester. 
COS 100: Introduction to Science as a Profession (1-2 credits) 
Engage with faculty in scientific disciplines throughout the college
Explore academic and career pathways in science
Learn the principles of scientific research.
Improve upon scientific communication skills across written, verbal, and digital platforms.