College of Science Learning Communities
Connect with other students of similar interests and goals.
The College of Science offers two Academic Learning Communities (LC) for you join with the opportunity to interact with other students and faculty in an interdisciplinary community focused on scientific inquiry, cutting-edge research, and global problem solving. 
First-Year Learning Community: Mason Science
Join the Mason Science Learning Community (MSLC) today and jumpstart your STEM journey as you delve into the grand scientific challenges of tomorrow.  First-year students from all majors are invited to join our dedicated Mason Science faculty and staff in exploring the worlds of scientific inquiry, cutting-edge STEM research, and interdisciplinary, global problem solving.  Our community is your GPS for STEM career success, demystifying the skills and experiences that unlock academic success and are most sought-after by STEM employers and graduate programs. Join an optional MSLC interest group and enjoy special programming for students exploring pre-medical studies, diverse identities in STEM, and global sustainability.  Through shared classes and engaging learning community activities, MSLC participants build close connections through faculty engagement and life-long, meaningful friendships.
MSLC students will live in Monroe Hall or Jefferson Hall in President Park. All MSLC student are required to register for COS 100: Introduction to Science as a Profession (1 credit).
Upper Level Learning Community: Sustainable Futures
Join the Sustainable Futures Learning Community, a close-knit, upper-level community of students committed to leading sustainable change, both globally and locally! Upper-level students from all majors with an interest in sustainability are invited to join our dedicated Mason Science faculty and staff in exploring the complex dimensions of global sustainability across social, scientific economic, and political domains.  Through learning community activities and impactful community projects, live and learn with a close-knit community of peers who share your passion for protecting our environment, conserving natural resources, and living more sustainably.
Sustainable Futures LC students will live in Hampton Roads Hall. Students in the Sustainable Futures community should register for one Green Leaf -designated course of their choice per semester.
Why join a learning community? 
Image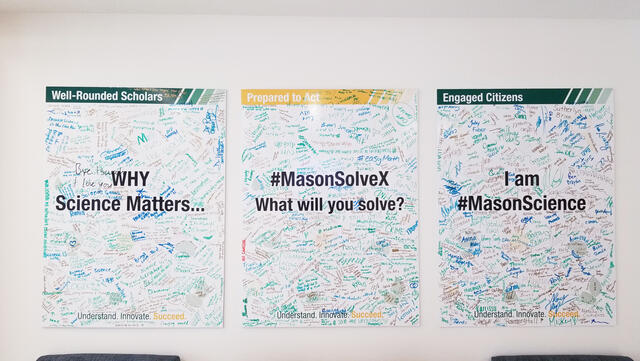 Build a cohort of like-minded individuals engaged in their passion in and out of the classroom 
Make connections with other students, both academically and socially 
Attend events and programming tailored to the Mason Science LC by content experts 
Access academic resources and support from faculty, tutors, and campus resources
Find mentorship from upper-level students in many of the LCs who have experience in the LC topic