K-12 STEM Programs
George Mason University's summer STEM opportunities provide students with hands-on learning experiences in all STEM disciplines.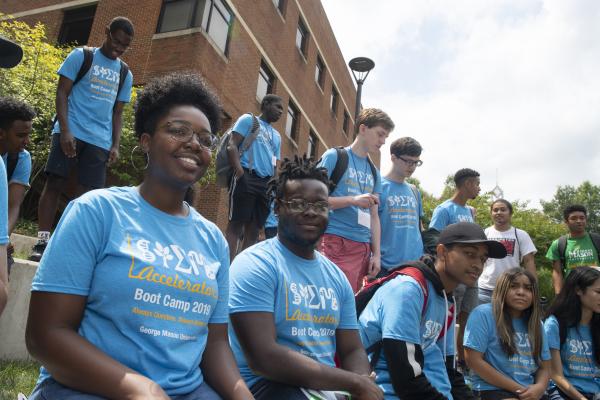 Earn college credit while still in high school
Governor's School
The Governor's School @ Innovation Park is a collaborative venture between three local public school systems, including Manassas City, Manassas Park City and Prince William County, hosted at George Mason University's Science and Technology Campus. The College of Science is the University partner with the Governor's School.
How it Works
High school students attend classes five days a week on George Mason's Science and Technology (SciTech) Campus each morning, and then return to their base high schools in the afternoon to complete the rest of their classes. They have dual enrollment at their high schools and at Mason. They will earn at least 12, and potentially up to 32 Mason credits. All courses are taught by experienced teachers from the Prince William County school system who underwent a vetting process to become affiliated with Mason.
Course Disciplines
The Governor's School students choose physics, chemistry, or biology as the science 'strand' for the two-year program, before graduating from high school with a Virginia advanced studies diploma. In 2013-2014, The Volgenau School of Engineering developed Mason courses for some students to take at The Governor's School. All students complete Mason undergraduate mathematics courses. Many conduct research with the assistance of Mason faculty.
Who are We
Padmanabhan Seshaiyer (Padhu) is the contact for Mason faculty to collaborate with the school. He is the Associate Dean for Academic Affairs.
Mason faculty members are invited to mentor gifted students in authentic research experiences, and/or to give guest lectures at the Governor's School. Reid Schwebach, a Mason Science STEM Accelerator faculty, Rachel Cleaver, the University associate director of K-12 Partnerships, and Elena Johnson, the Director of the Washington Scholars Program and Partnerships, are members of the Governor's School Executive Committee who work with the Director of the Governor's School, Jason Calhoun, as well as the public school systems to help oversee the Governor's School operations.
Padhu and Janette Muir, from Mason Provost's Office, participate in the school's top-tier school oversight committees, which are organized by the public school systems. The Governor's School Advisory Committee includes Reid Schwebach (STEM Accelerator Program), John Schreifels (Chemistry and Biochemistry), Larry Rockwood (Biology), Mike Summers (Physics), and Robert Sachs (Mathematical Sciences).
For further information about the Governor's School, please contact Padhu Seshaiyer at pseshaiy@gmu.edu, or Reid Schwebach at  jschweba@gmu.edu.