K-12 STEM Programs
George Mason University's summer STEM opportunities provide students with hands-on learning experiences in all STEM disciplines.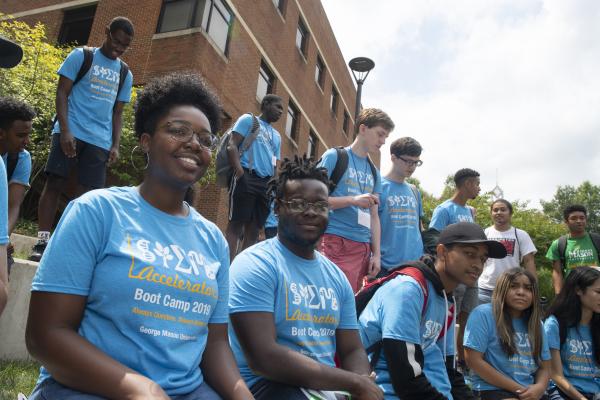 Camps and Programs
Aspiring Scientists Summer Internship Program (ASSIP)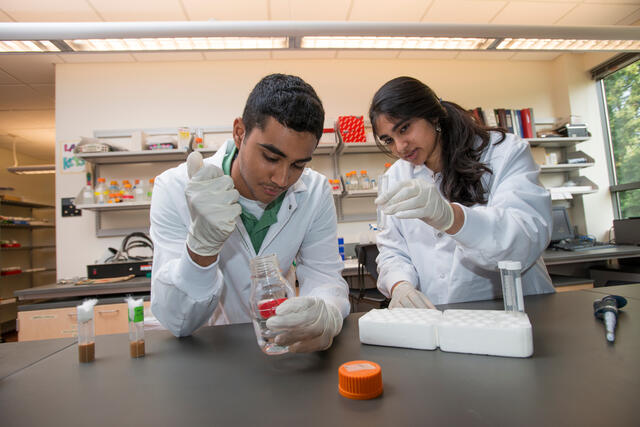 June 21 - August 11
For students 16+. ASSIP was established for high school and undergraduate students who are passionate about science and eager to gain practical science, technology, engineering and math experience. Selected students work one-on-one with faculty researchers at George Mason University and collaborating institutions using state-of-the-art technology to solve hypothesis-driven questions.
ASSIP Young Researchers (ASSIP-YR) — Students 13 – 15
ASSIP-YR is a mentor-differentiated, non-wet lab research experience for academically advanced younger students. Students will be admitted by application and mentor interview. Visit assip.cos.gmu.edu to learn more.
Females of Color Underrepresented in STEM (FOCUS)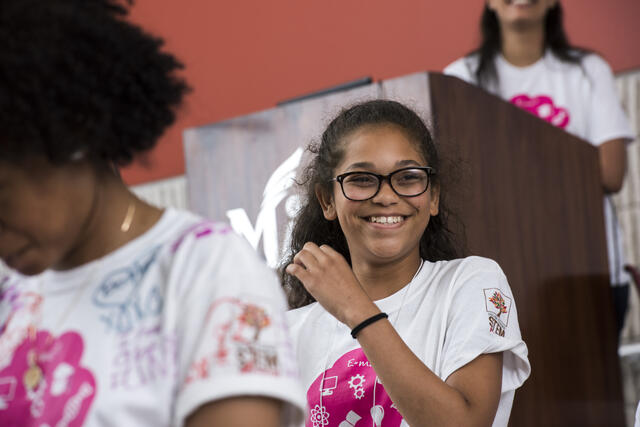 FOCUS Camp
July 31 – August 4, 2023
Technology and innovation take center stage at this week-long camp for rising 6th-, 7th-, and 8th-grade girls. Participants exercise their critical thinking skills and engage in creative problem-solving activities that foster interests in technology, engineering, forensic sciences and mathematics.
Registration is full. Contact Kelly Knight at kknight6@gmu.edu for further information.
FOCUS Academy for High School Students
This is a hands-on, residential camp with STEM workshops and professional development activities that prepare students for college. Priority is given to alumnae of the FOCUS Camp. 
The Focus Academy registration is also full.
Global STEM Scholars Program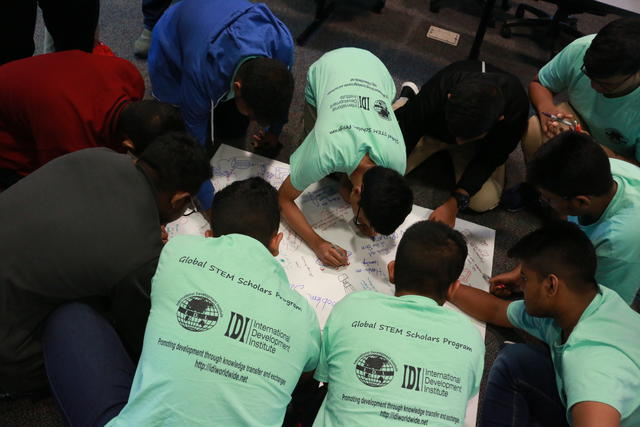 The Global STEM Scholars Program (GSSP) is a collaboration between the George Mason University College of Science, the International Development Institute (IDI), and high schools across the globe to provide a four to five day rigorous and immersive STEM experience for cohorts of secondary students from developing nations.
Find our more about the program or contact learn about partnering with Mason and IDI by contacting Kerin Hilker-Balkisoon.
Interstellar Dreams Space Center Summer Camp
For the first time this summer, rising sixth through ninth graders interested in what exists beyond Earth's atmosphere experienced the role of a "mission specialist" and designed a lunar space station with guidance from experts in the field. Throughout the week-long camp, participants learned about physics and astronomy and visited Mason facilities like the satellite development lab and the Mason Observatory. During six week-long programs, campers also learned about space mission roles and engineering tasks—culminating in a "press conference" at the end of the week to a small audience of family and professionals to share their lunar space station design, motivations and mission.
Check back for information on 2024 activities. 
Mason Math Odyssey Enrichment Camp
Mason Math Odyssey Enrichment Camp
July 17 - July 21, 2023
The Mason Math Odyssey Enrichment Camp (MMO) is a place for rising 6th - 9th graders who are curious about math to learn about beautiful mathematics concepts typically not taught in K-12 curriculum. Students will engage in fun and friendly team competitions that will help build mathematical maturity while honing problem solving, collaboration, and communication skills. Camp participants will embark on an exciting mathematical journey through space and time to learn about some of the greatest mathematical discoveries from ancient times to this day, get exposed to some of the fundamental mathematical concepts from the areas of geometry, topology, number theory, probability and algebra, as well as mathematical modeling, and compete for a chance to win the camp trophy. As part of the daily agenda, students will be immersed into one of the mathematical themes through guest lectures, hands-on activities, and group projects featuring Olympiad-style problems as well as simple mathematical puzzles and culminating in a peer and instructor judged presentation. 
Quantum Week
The Quantum Science and Engineering Center (QSEC) hosted Quantum Week 2023  to recognize the  awe-inspiring quantum technologies of today and in the future. The event took place on Mason's Fairfax Campus and livestreamed on Zoom, and consisted of technical seminars, a tech showcase, research posters, career panel discussions, casual talks, as well as quantum game playing and interactive sessions. Academic scholars, industry researchers, startup foundries, and Mason students came together to discuss state-of-the-art technologies, business visions, and quantum education and career opportunities.
Check back for information on Quantum Week 2024. 
VALHEN Hispanic STEM Academy
Image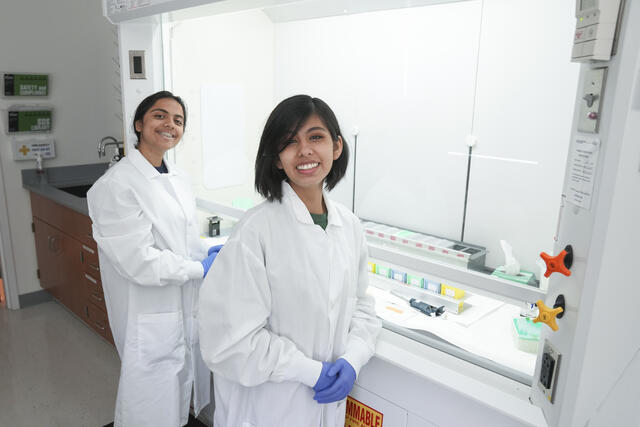 July 26 - July 28
George Mason University is partnering with the Virginia Latino Higher Education Network (VALHEN) to proudly offer the VALHEN Hispanic STEM Academy for rising Virginia high school sophomores and juniors from Hispanic/Latinx and other underserved communities. The 2023 VHSA program will take place July 26 through July 28 on George Mason University's Fairfax Campus.  As slots are limited, you must apply to participate. The program is free for selected students.
Earn college credit while still in high school
Governor's School
The Governor's School @ Innovation Park is a collaborative venture between three local public school systems, including Manassas City, Manassas Park City and Prince William County, hosted at George Mason University's Science and Technology Campus. The College of Science is the University partner with the Governor's School.
How it Works
High school students attend classes five days a week on George Mason's Science and Technology (SciTech) Campus each morning, and then return to their base high schools in the afternoon to complete the rest of their classes. They have dual enrollment at their high schools and at Mason. They will earn at least 12, and potentially up to 32 Mason credits. All courses are taught by experienced teachers from the Prince William County school system who underwent a vetting process to become affiliated with Mason.
Course Disciplines
The Governor's School students choose physics, chemistry, or biology as the science 'strand' for the two-year program, before graduating from high school with a Virginia advanced studies diploma. In 2013-2014, The Volgenau School of Engineering developed Mason courses for some students to take at The Governor's School. All students complete Mason undergraduate mathematics courses. Many conduct research with the assistance of Mason faculty.
Who are We
Padmanabhan Seshaiyer (Padhu) is the contact for Mason faculty to collaborate with the school. He is the Associate Dean for Academic Affairs.
Mason faculty members are invited to mentor gifted students in authentic research experiences, and/or to give guest lectures at the Governor's School. Reid Schwebach, a Mason Science STEM Accelerator faculty, Rachel Cleaver, the University associate director of K-12 Partnerships, and Elena Johnson, the Director of the Washington Scholars Program and Partnerships, are members of the Governor's School Executive Committee who work with the Director of the Governor's School, Jason Calhoun, as well as the public school systems to help oversee the Governor's School operations.
Padhu and Janette Muir, from Mason Provost's Office, participate in the school's top-tier school oversight committees, which are organized by the public school systems. The Governor's School Advisory Committee includes Reid Schwebach (STEM Accelerator Program), John Schreifels (Chemistry and Biochemistry), Larry Rockwood (Biology), Mike Summers (Physics), and Robert Sachs (Mathematical Sciences).
For further information about the Governor's School, please contact Padhu Seshaiyer at pseshaiy@gmu.edu, or Reid Schwebach at  jschweba@gmu.edu.