The College of Science's Math Readiness Camp is for students who want to place into a specific math course such as CALC I, or a higher math course than the one they tested into during orientation.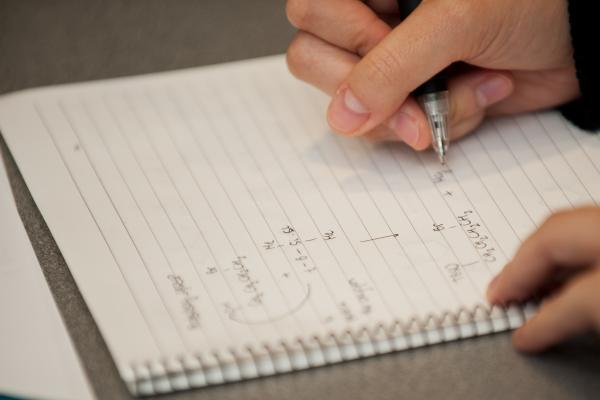 Due to Covid-19, STEM Bridge Camps for 2020 has been canceled. However, you can contact stemcos@gmu.edu if you have interest in preparatory material for the transition into university life and studying STEM.
During the 4-day residential camp, students are assembled into small working groups based on skill level to obtain deeper understanding of mathematical concepts in algebra, trigonometry or calculus. The goal is to improve math placement scores and prepare for Mason math courses. Math professors, graduate students and undergraduate learning assistants will provide guidance and support to each camp attendee. On the first day (if needed) and last day of camp, students will have the opportunity to take the math placement test.  Participation in the camp adds one additional opportunity to the Mason two-attempt limit (max 3, total).
The camp is residential and students are expected to stay in the dorms during the week. Students that participate in STEM camps, are also strongly encouraged to enroll in the associated University Transitions (UNIV 108; 0-1 credit) course for the fall semester. In this course you will continue to work with the same student cohort, and build the skills necessary to effectively transition to university life.
Space is limited, so apply early!  Students can take both camps (STEM Boot Camp and Math Readiness) and we have accommodations at Mason for the transition day. Note that there is a single application for both camps.
Dates:
July 9 - 12, 2020
Frequently Asked Questions
Who should register for Math Readiness Camp?
The Math Readiness Camp is specifically designed for students who did not test into the math course they require/desire on their first attempt. If you tested into Calc I or below, you should consider the Math Readiness Camp. Students who have not taken the math placement exam may also register. Visit this link for additional details on the Math Placement Test or contact us at stemcos@gmu.edu.
I have AP/IB or some other equivalent credits in math. Should I still participate
Yes. Participating in the Math Readiness Camp will enable you to solidify your skills in Algebra, Trigonometry, and transcendentals to prepare you for your full math class.
I already placed into the math course I wished to be in on the math placement exam. How can I still participate?
If you have taken the math placement exam and placed into the course you needed, congratulations! If you qualify for MATH 114 (Calc II) or higher, you are too advanced for the Math Readiness Camp, but please consider registering for our STEM Boot Camp, August 11-16, 2019, which has an advanced math track.  
Can I register for the STEM Bridge Camp as well?
Yes, you can register for both camps. The STEM Bridge Camp will be July 13-17, 2020. 
Is housing provided for the Math Readiness Camp?
Yes, university housing will be provided for the Math Readiness Camp. Housing will be in double occupancy bedrooms unless otherwise requested. Single bedrooms will cost an additional fee.
Is food provided for the camp?
All meals will be provided for this camp. Several options will be available at each meal for dietary restrictions.
Should I bring bedding for the one-week stay?
Yes, you do need to bring bedding (sheets, blankets, pillows).
How much does the camp cost?
The fee for the Math Readiness Camp is $425.