Summary of Undergraduate Programs
Read about all your options here, then follow the links above to learn more details about each Major and Minor. 
BS in Chemistry
The BS in Chemistry is recommended for students who are planning professional careers in chemistry or chemistry related fields or who are intending to pursue postgraduate studies in chemistry after graduation. The BS is certified by the American Chemical Society as meeting the necessary criteria for a professional baccalaureate degree in chemistry. Major requirements include a minimum of 51 semester hours of chemistry, 11 hours of mathematics, and 8 of physics and 4 hours of biology.
BS in Chemistry with Biochemistry Concentration
The BS/Biochemistry option is recommended for students who are planning professional careers in biochemistry, biological chemistry, molecular biology, biotechnology, or other biomedically related field with a chemistry emphasis. It also meets the requirements for entrance to medical and other professional schools. Requirements include 39-48 hours of chemistry, 8 hours of mathematics, 8 hours of physics, and 8-17 hours of biology.
BS in Chemistry with Analytical Chemistry Concentration
The Analytical Chemistry concentration is designed to introduce and train students in modern aspects of analytical chemistry. Students who choose this program will be well-prepared to run sophisticated analytical instruments in industry and research laboratories and to pursue an advanced degree specializing in analytical chemistry.
BS in Chemistry with Environmental Chemistry Concentration
Students who chose the Environmental Chemistry concentration will have a broad knowledge of chemistry and a firm foundation in atmospheric, aquatic, and soil environmental sciences. The major prepares students to work in the public or private sector as environmental chemists as well as to pursue an advanced degree.
BS in Chemistry with Materials Chemistry Concentration
Students in the Materials Chemistry concentration explore nanostructures and how they relate to the macroscale physical and chemical properties of a material. Students interested in a career specializing in the synthesis and characterization of materials, as well as applied areas of materials chemistry, obtain a firm foundation in this subfield of chemistry.  
BA in Chemistry
The BA in Chemistry is intended to fulfill the needs of students who wish a broader liberal arts education. It is recommended for students who are preparing to enter medical or dental schools or who may wish to enter other scientific and non-scientific fields related to chemistry, such as environmental science, pharmacy, business, or law. Major requirements include 37 hours of chemistry, 11 hours of mathematics, and 8 to 12 hours of physics. Both BA degree programs satisfy the requirements for state certification in chemistry for secondary school teachers
Minor in Chemistry
A Minor in Chemistry requires 16 credits of chemistry at the 300 level or above with a minimum GPA of 2.00.
Developing new antibiotics
Mosufa Zainab's OSCAR funded project focused on the development of novel antibiotics targeting the non-mevalonate pathway under the mentorship of Dr. Robin Couch.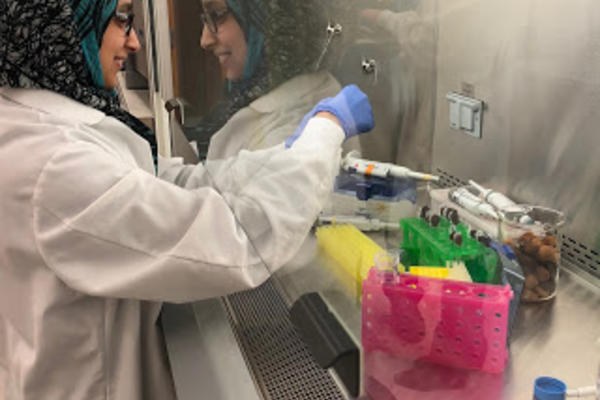 Other Programs and Internships
Honors Program in Chemistry
Chemistry majors who have completed the prerequisites for CHEM 455, 456, Honors Research in Chemistry, and who have maintained an overall GPA of at least 3.00 in mathematics and science courses are eligible to enter the departmental Honors Program and graduate with Honors in Chemistry. Concurrent enrollment in CHEM 490 is required for both CHEM 455 and 456. The Chemistry pre-requisites are CHEM 314, 318, 321, 331, and 336. Students in the program participate in chemistry research under the direction of a faculty member and complete the requirements for undergraduate attendance at the weekly Department seminar. Students may apply to the program by submitting an honors program application.
Pre-Professional Students
Students planning medical, dental, or veterinary careers (premedical, predental, and preveterinary) may meet the requirements of these professional schools by majoring in chemistry. Students should consult with the Health Professions/Premedical Advisor in the Academic Advising and Transfer Center.
Research and Internships
Opportunities are available within the department for undergraduate participation in original research in conjunction with the chemistry faculty. This may be achieved through CHEM 355, CHEM 451 and 452 (Special Projects in Chemistry) or through involvement with faculty members on externally funded research grants. GMU Chemistry Majors also take advantage of the unique scientific resources available in the region through student internships at government laboratories such as the Naval Research Laboratory, the U.S. Geological Survey and the National Institutes of Health.
Semester Course Offerings
Courses taught only once a year are shown in bold underline.
| | |
| --- | --- |
| Fall  | 211-213, 212-214, 313, 314, 315, 318, 321, 331, 336, 422, 425 (odd), 427 (even), 441, 446, 463, 465, 490 |
| Spring  | 211-213, 212-214, 313, 314, 315, 318, 321, 332, 336, 337, 413 (odd), 423, 445, 463, 464, 465, 467 (odd), 468(even), 490 |
| Summer  | 211-213, 212-214, 313, 314, 315, 318, 321, 463/Biol 483 |
Individualized sections 355, 451, 452, 455, 456 are available every semester.
CHEM 458/GEOL 458 is offered every 4th semester.
ACS Accreditation
The Chemistry and Biochemistry Department at Mason is accredited by the American Chemical Society, the largest professional society in the world.