The Geography, BA is designed to offer students the opportunity to study the integrated social and environmental processes that continuously shape and reshape the world we live in.
This major provides students with broad training across the core subdisciplines of geography (human, physical, and GIScience), while also offering the requisite flexibility for those students seeking a multidisciplinary educational experience.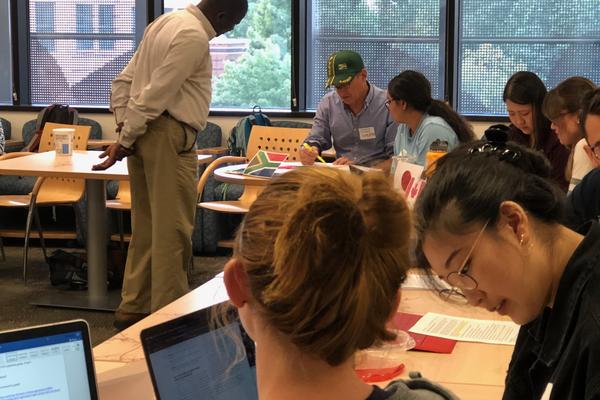 Program Highlights
Given their interdisciplinary approach and uniquely spatial perspective, geographers are well suited to address important local, regional, and global challenges in today's world. Numerous employment opportunities await graduates of our Geography, BA program.
Course Catalog
Review admission and course requirements for this degree:
Where can you go with a Geography degree? Anywhere.
Work for companies that create maps or engineer the tools to help create maps. Students have gone on to work for Mapbox, Esri, and local government agencies such as county GIS offices.
Further your education and continue on to get a graduate degree.
Research opportunities aren't just for graduate students. Our undergraduate students participate in research with faculty and local sponsors such as:
DARPA
Department of Transportation
Fairfax County Government
NOAA
Concentrations
Supplement your bachelors degree by specializing in one of our interdisciplinary concentrations. 
Environmental Geography Concentration
The Environmental Geography concentration for the BA in Geography provides a unique opportunity for majors to take a broader, integrative science approach to studies of the environment. In collaboration with the Department of Environmental Science and Policy, BA in Geography majors have the opportunity to focus their studies on geographic approaches to climatology and global changes, environmental issues, policy matters, and sustainability topics.
View in Course Catalog
Health Geography Concentration
The field of Health Geography addresses the role of place, location dynamics and geography in health, well-being, and disease. Public health patterns can vary significantly by physical and social characteristics of places both within and between regions, states, or countries. In collaboration with the Department of Global and Community Health, BA in Geography majors get introduced to local and global health issues and develop their skill set in spatial and statistical analysis of diverse health outcomes in populations.
View in Course Catalog
Geoanthropology Concentration
This concentration enables BA in Geography majors, versed in systematic techniques and regional geography, to become better versed in the theoretical constructs of anthropology that situate the environment as part of a global cultural system.
View in Course Catalog