Chris Durac
This #StaffShoutout goes to Chris Durac, Project Manager for the Forensic Science Program. Durac's journey at Mason started as an out-of-state undergraduate student studying Chemistry. At the time, the Forensic Science Program did not offer a bachelor's program, so he decided to pursue a Minor where he became captivated with the materials and topics within forensic science. Shortly after, the Forensic Science program added a Bachelor's degree and Durac decided to double major in Chemistry and Forensic Science.

Durac went on to earn his Master's in Forensic Science, where he also worked as a Graduate Teaching Assistant. After he graduated with his Master's, the Forensic Science Program opened the position for Forensic Science Project Manager, which Durac eagerly applied for, and the rest was history.

Durac's position has him working with both the students and faculty within the program. He assists with the program's academics and administration, such as maintaining and supporting the programs' facilities and labs like the Crime Scene House. He also serves as an advisor for students and helps perform outreach activities for both the media and prospective students.

When he first started in the Forensic Science Program, there was no Crime Scene House, DNA Lab, or the recent Forensic Science Research and Training Laboratory. Seeing how the program first started to the growth of where it is today has been an incredible journey for Durac, and he's excited to see what's next.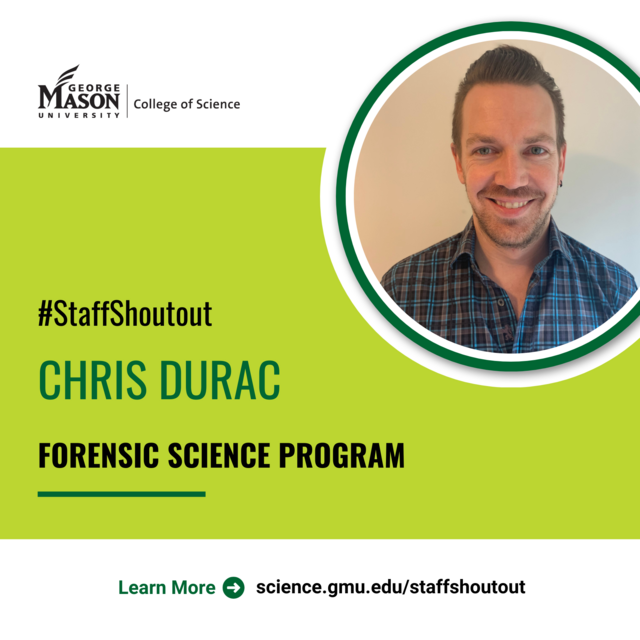 Genevieve McKenna
This #StaffShoutout goes to Genevieve McKenna, Academic Communications Specialist for the Department of Biology. McKenna wears several hats for the department that allows her to engage with the #MasonScience community in several ways. She serves as the social media coordinator for the department, where she gets to create content that brings the whole Mason Biology community together. She also supports student with any Mason-related academic or university life inquiries or questions they may have. Not only does she support the students, but she also supports the Biology Chair and faculty as well. McKenna ensures that everything runs smoothly behind-the-scenes.
McKenna is a Mason alum who earned her Bachelor's degree in Communications with an emphasis on Graphic Design. She later went on to earn her Master's in Enterprise Business Management at Stratford University. After gaining more student support skills, she found her way back to Mason as an admin for the Biology department. As a student, Mason was a place that sparked her curiosity and shaped who she is today. Now as a staff member, she brings that student perspective into everything she does. She understands where the students are coming from because she's been there herself; now it's about giving back and helping current students have the amazing experiences she had.
McKenna loves being a part of the #MasonScience community because of its cutting-edge research and inclination towards creativity. The multitude of hands-on experiences, top-notch facilities, and diverse perspectives make the college a unique place to be.
Outside of Mason, McKenna spends her time as a professional singer booked at churches, events, and the occasional ball game. You may have recognized her powerful high notes from our #MasonScience Degree Celebrations over the years.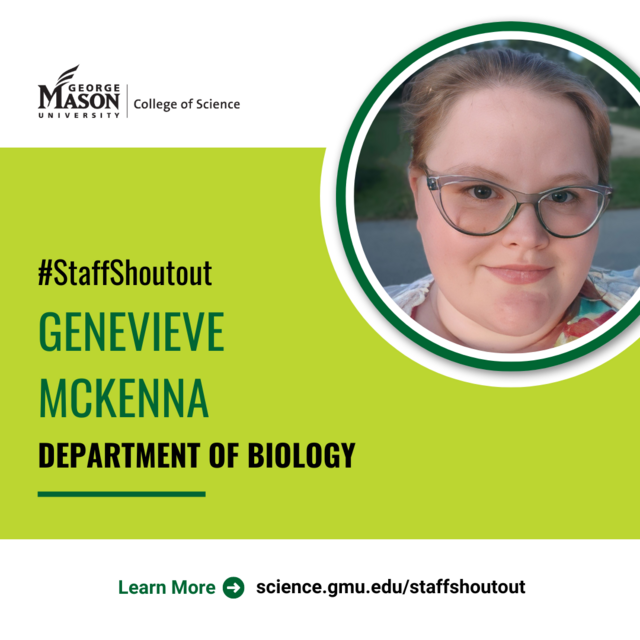 AOES Staff Team
This #StaffShoutout goes to the Department of Atmospheric, Oceanic and Earth Sciences staff! From left to right, Rachida Abuzaid, Administrative Assistant, Maria D'souza, HR and Fiscal Analyst, and Stephanie O'Neill, Academic Administrative Specialist. These three are responsible for facilitating the HR processes, managing grants and budgets, making purchases, handling reimbursements and contracts, and assisting with all department activities. They are always willing to help Faculty and Staff to maintain smooth office operations.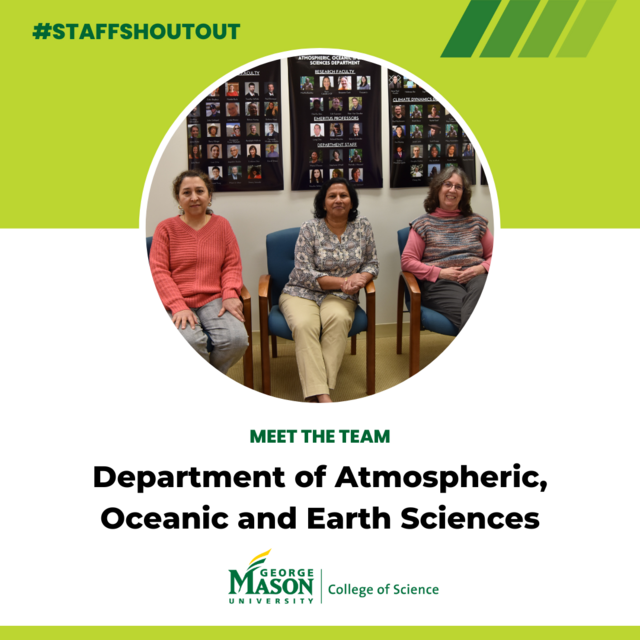 Andrea Nikoi
This #StaffShoutout goes to Andrea Nikoi, Director of Finance and HR, School of Systems Biology (SSB). We congratulate Nikoi for her recent Dean's Community Award that she earned at this year's Celebration of Success. This year, Nikoi has worked tirelessly for the faculty and students in her department. She facilitated efforts to streamline processes and lower the number of technical tasks required from faculty to free more of their time for research and teaching. Nikoi also made important contributions to the promotion and maintenance of a positive inclusion and diverse climate at SSB, providing strong direction, advice, and support for SSB staff and is an excellent personal role model for women and minority students in the department.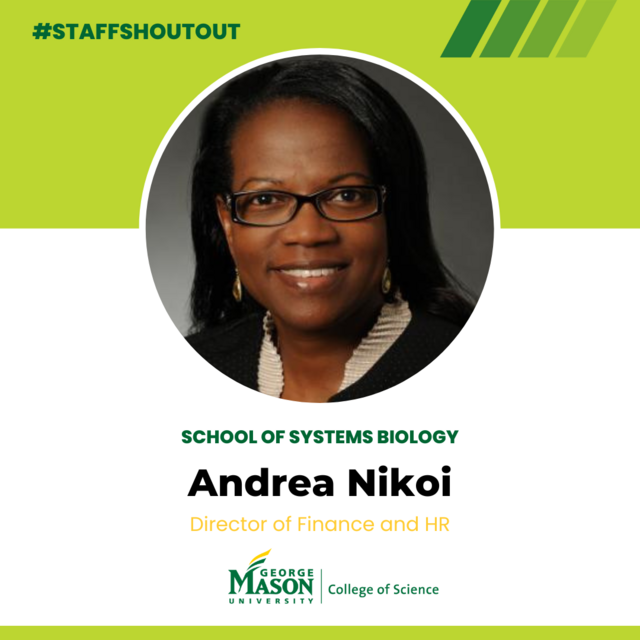 Elizabeth Foy
This #StaffShoutout goes to Elizabeth Robles Foy, Lab Manager, Department of Chemistry and Biochemistry. Foy is responsible for the management of the overall operations of the Chemistry Department, she maintains quality control of the teaching laboratory, and she serves as a liaison between the Laboratory Quality and Environmental Services and Compliance. Every summer, Foy looks forward to working with EIP, FOCUS and STEM Bootcamp students. Outside of the lab, she is a state certified EMT and would volunteer with her local Fire Department.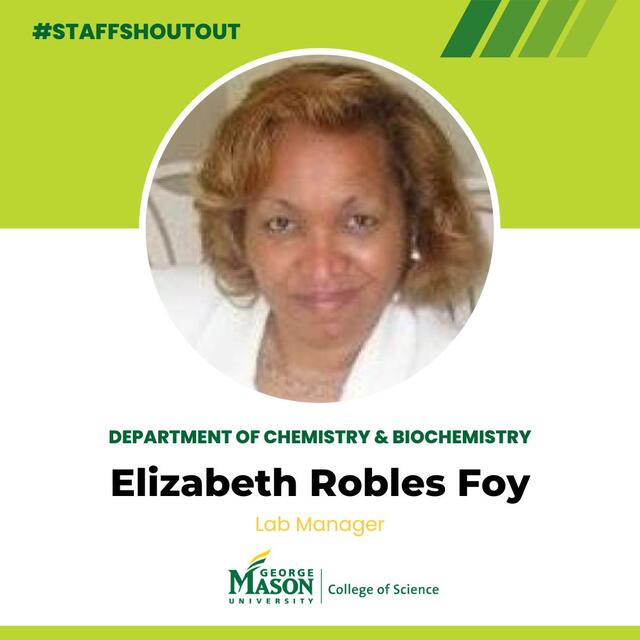 Lori Mayes
Forensic Science Program
This #StaffShoutout goes to Lori Mayes, Administrative Assistant, Forensic Science Program. Mayes has been with #MasonScience since 2019 and has enjoyed every second of it. Thanks to her 30+ years of administrative experience, she has the capability to handle anything that comes her way. She relishes in the "family feel" here at Mason, which helps her strive to best assist all the students and faculty members in the program.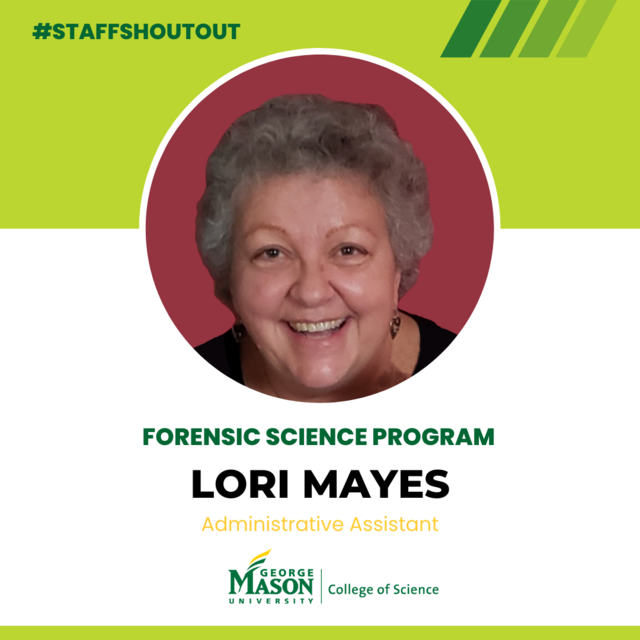 Computational and Data Sciences