March 3, 2023
Erhai Zhao
We kick off our Physics and Astronomy Department Spotlight with this #FacultyFriday featuring Dr. Erhai Zhao, Professor. Zhao is a theoretical physicist with a research interest in quantum matter. Specifically, solids, fluids, or gases that exhibit counter-intuitive behaviors on the macroscopic scale due to quantum mechanical effects. For example, ultracold quantum gases, which are about one trillionth to one billionth degree above absolute zero temperature, are trapped and manipulated by laser light to serve as quantum simulators to address open questions in quantum many-body physics.

Zhao also studies the dynamics of open quantum systems, of interest to quantum sensing, control, and quantum computing. His research examines quantum dynamics through the lens of topology and entanglement. For example, his recent work on "Knots and Non-Hermitian Bloch Bands" and "Topological Invariants for Quantum Quench Dynamics from Unitary Evolution" appeared in Physical Review Letters.

Two of his recent projects include the study "Strongly Interacting Atoms under Quantum Gas Microscope," funded by National Science Foundation, and the study "Topological Phases of Ultracold Atoms beyond Standard Optical Lattices," funded by the Air Force Office of Scientific Research.

Zhao's passion for his research is driven by his curiosity about the infinitely rich quantum world-- weird, challenging, yet comprehensible. He is inspired by the colleagues, students and postdocs he's had the privilege to work with at Mason. Zhao cares deeply about the quality of the department's undergraduate curriculum; if you have any comments or suggestions to improve the learning or teaching experience, be sure to reach out to him.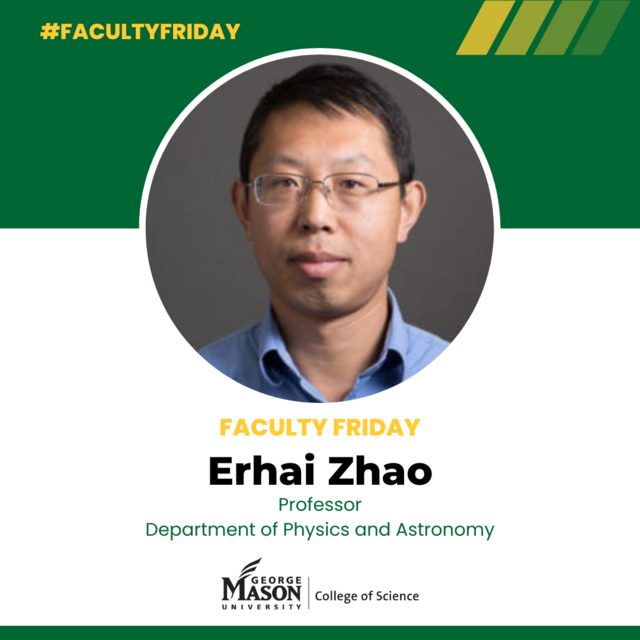 February 24, 2023
Rocío Paola Caballero-Gill
This #FacultyFriday features Dr. Rocío Paola Caballero-Gill, Assistant Research Professor, Department of Atmospheric, Oceanic, and Earth Sciences. Currently at Mason, she serves as one of the Principal Investigators in a collaboration, funded by the Heising-Simons Foundation, between six main research institutes in the U.S. The collaboration aims to investigate astrochronology and Solar System dynamics, while also addressing known inequities in science. For this collaboration, she is the Lead Director of The CycloCohort Program, where they address known barriers for early career scientists in Geoscience and Astronomy, in addition to promoting inclusion, diversity, equity and justice-focused leadership.  

Outside of Mason, she works with two other organizations that are near and dear to her. GeoLatinas is  an international community with a mission to embrace, empower, and inspire Latinas to pursue and thrive in Earth and Planetary Sciences careers. And Climatematch Academy, an international, volunteer-driven group working to foster a globally diverse climate science community. This initiative is still a work in progress, so if you are interested in joining, contact Dr. Caballero-Gill and save the date for July 17-28, 2023.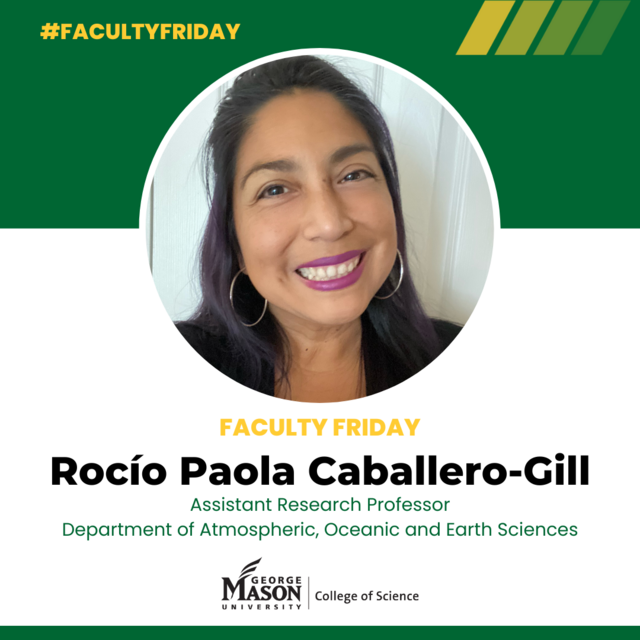 February 17, 2023
Geoffrey Gilleaudeau
This #FacultyFriday features Dr. Geoffrey Gilleaudeau, Assistant Professor, Department of Atmospheric, Oceanic and Earth Sciences. His research focuses on the ocean-atmosphere chemistry and its effect on biological development through Earth's history. His research group uniquely blends various geological areas of study and uses a range of geochemical tools applied to marine sedimentary rocks, spanning from the Proterozoic Eon to the current Holocene epoch.  

The Gilleaudeau Research Lab is looking for both undergraduate and graduate students to work on a wide variety of field- and laboratory-based projects here at #MasonScience. Contact ggilleau@gmu.edu if you are interested. Click here to check out the research his group conducts.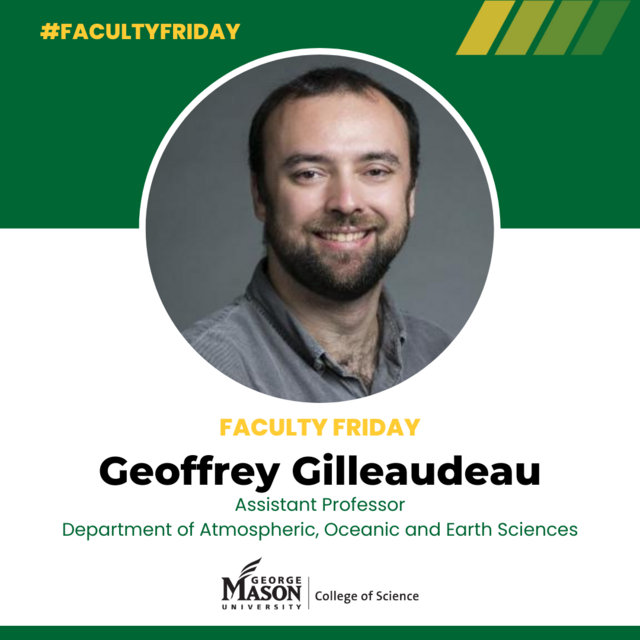 February 10, 2023
Luis Ortiz
This #FacultyFriday features new faculty member, Dr. Luis Ortiz, Assistant Professor, Department of Atmospheric, Oceanic, and Earth Sciences. Ortiz's research centers on advancing our understanding of how cities interact with the atmosphere in the context of a changing climate, and the impacts these interactions have on people and infrastructure. His work considers cities as complex systems of environmental, human, and engineered domains. For example, he recently studied air-conditioning. Due to the urban heat island effect and global warming, there is an increasing demand for AC. However, AC works by expelling heat from inside a building, so it further heats the outdoors environment in densely populated cities while also boosting greenhouse gas emissions. Ortiz studied the effect of giving all homes air conditioning on the urban heat island, energy use, and economic burdens to low-income families.

Thanks to his passion for climate, Ortiz has started working with the Virginia Climate Center (VCC). In this role, he collaborates with communities in the Commonwealth and provides them with state-of-the-art climate data and insights.

Prior to joining Mason, Ortiz completed an appointment with the Office of the U.S. Secretary of Transportation, where he worked on climate policy and environmental justice. He also serves as co-Chair of the Climate Science Working Group at the New York City Panel on Climate Change, which works to develop the next set of climate projections for the city of New York.

Outside of work, Ortiz is an avid baker and board game enthusiast.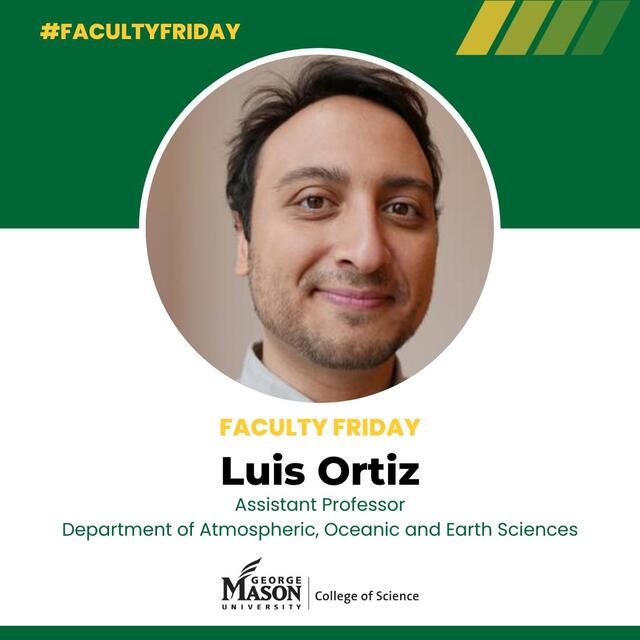 February 3, 2023
Brittany Hupp
We kick off our Atmospheric, Oceanic, and Earth Science (AOES) department spotlight with new faculty member Dr. Brittany Hupp, Assistant Professor. Hupp joined the AOES department thanks to the welcoming environment, supportive community, the abundance of avenues for collaboration, and the opportunity to teach our diverse and dedicated Mason Science students.

Hupp's research lies at the intersection of geology, chemistry, and ecology, which allows her to pursue multidisciplinary questions and utilize a wide range of approaches to investigate both modern and ancient environments.

Currently, she is working on the development of geochemical tools or "proxies" to reconstruct past climate and ocean conditions in polar and subpolar regions, which are areas that have been identified as highly vulnerable to climate change.

This work involves measuring trace elements and stable isotopes in the shells of modern marine zooplankton and comparing their shell chemistry to the conditions of their living environment to establish quantitative geochemical-environmental calibrations that can be applied to evaluating fossil records.

Her other area of research includes using geochemical and paleontological methods to investigate how oceans and marine communities responded to past periods of abrupt climate change that serve as useful analogs for our modern changing climate.

Outside of the lab, you can find Hupp enjoying the great outdoors with her family or whipping up a delicious new recipe.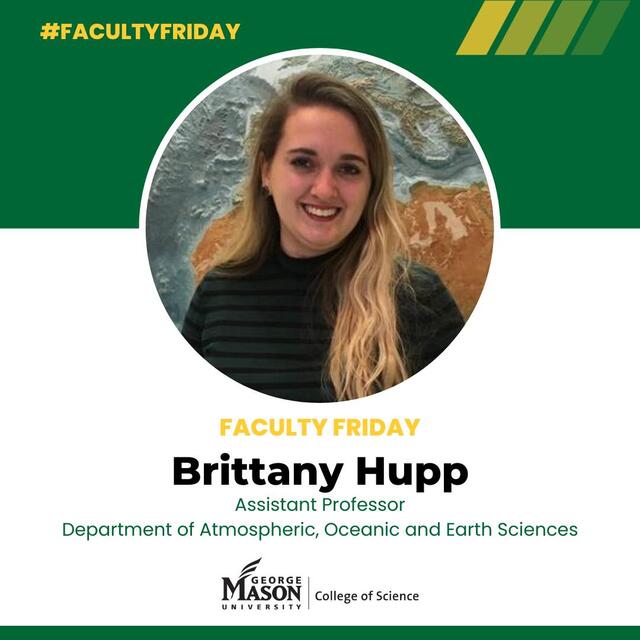 January 27, 2023
Frank Krueger
This #FacultyFriday highlights Dr. Frank Krueger, Professor, Neuroscience Program (IPN) and GMU - School of Systems Biology. Krueger is interested in understanding the psychoneurobiological underpinnings of human-human and human-machine trust by combining methods from psychology, ergonomics, and neuroscience. His primary research focuses on the psychoneurobiological mechanism of interpersonal trust. In fact, he recently edited the book, "The Neurobiology of Trust."
His other primary research topic includes the study of the underlying psychoneurobiological signatures of human-machine affiliation, which he just presented on at Galileo's Science Café this past week. If you missed the presentation, you can watch it here.

Krueger seeks to initiate the Transdisciplinary Research Union for the Study of Trust (T-R-U-S-T), which aims to bring professionals of various disciplines together to explore commonalities and differences around the theoretical and applied aspects of trust —building bridges between different perspectives and combining multiple facets of trust to acquire a broader understanding of this essential phenomenon.

In addition to his research, Krueger has authored/co-authored about 200 publications. He is a frequent ad-hoc reviewer for about 50 journals in the field of neuroscience; he is the Specialty Chief Editor for Frontiers in Social Neuroergonomics and serves on editorial boards of numerous neuroscience journals and national and international grant review panels.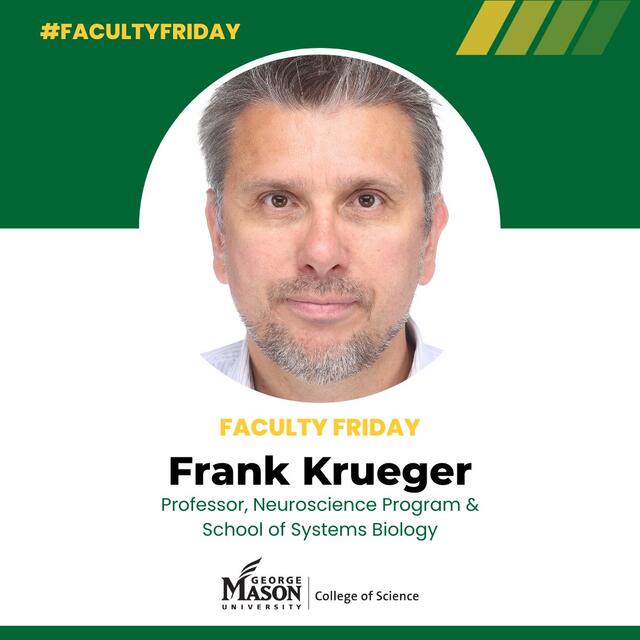 January 20, 2023
Gwendolyn Lewis
Today's #FacultyFriday features Dr. Gwendolyn (Wendy) Lewis, Associate Professor, Interdisciplinary Program in Neuroscience (IPN). Lewis is a teaching-focus faculty member and the IPN undergraduate coordinator, so she focuses on teaching the process of research and making research experiences accessible to undergraduate students. Two of her biggest contributions to the program include the launch of NEUR 406: Zebrafish Neurodevelopment Laboratory, a research-based course where students use zebrafish embryos to study the development of the vertebrate nervous system. Lewis also helped develop the introductory Neuroscience course, a course that is open to non-majors and fulfills the Natural Science Mason Core.

Working in the vibrant and growing Neuroscience program, along with wonderful colleagues and having the opportunity to teach our diverse and engaging Mason students, has been a great privilege for Lewis. Her passion for the nervous system and all its unanswered questions drives her teaching and her aim to make the program the best it can be.

If you run into Lewis, make sure to ask her about glia- the helper cells of the nervous system and all their essential functions.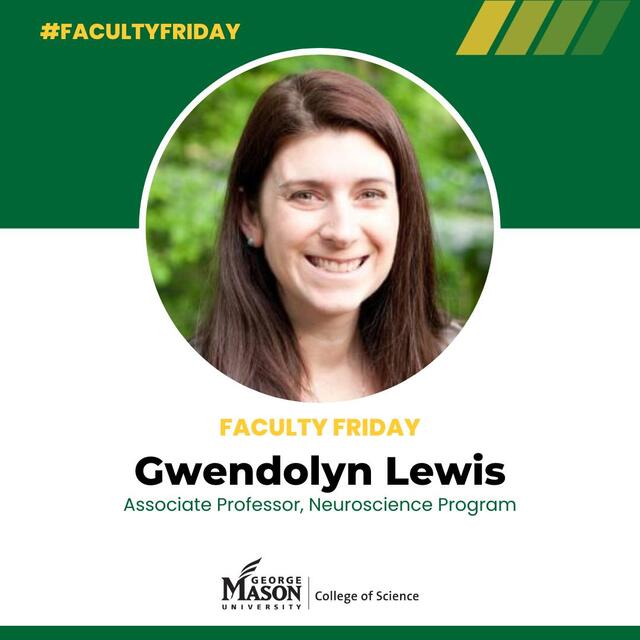 January 13, 2023
Greta Ann Herin
This #FacultyFriday features Dr. Greta Ann Herin, Associate Professor, Interdisciplinary Program in Neuroscience (IPN). Recently, Herin has been researching the effect of environmental pollution on neurotransmitter receptor function. Her research has found that lead (Pb) inhibits a neurotransmitter receptor that is important in forms of learning and memory. To some degree, this may explain why children who have been exposed to lead exhibit behavioral issues and learning impairments, even after their bodies have been cleared of lead.
Herin joined IPN thanks to its reputation and admirable faculty members. Teaching neuroscience, the bridge between physics and personhood, has been incredibly rewarding. Being able to teach and inspire diverse, driven, and resilient Mason students about the complexities of neurophysiology is what it is all about for Herin.
Outside of the lab, Herin spends her free time riding a tandem bike or in a rowing scull.