The GEOINT program addresses the emerging demand for scientists trained in the collection, organization, analysis, and dissemination of information about physical features, man-made structures, moving objects, people, and events that are geo-referenced or geo-located.
Our program focuses primarily on the computational approaches that support the synthesis and analysis of diverse types of data in order to identify and monitor complex events and phenomena that manifest over space and time. While geospatial intelligence has a strong Department of Defense connotation, the principles behind it have a significant dual use potential, addressing the needs of a broader audience, ranging for example from intelligent navigation in urban spaces to emergency response systems for natural and man-made disasters.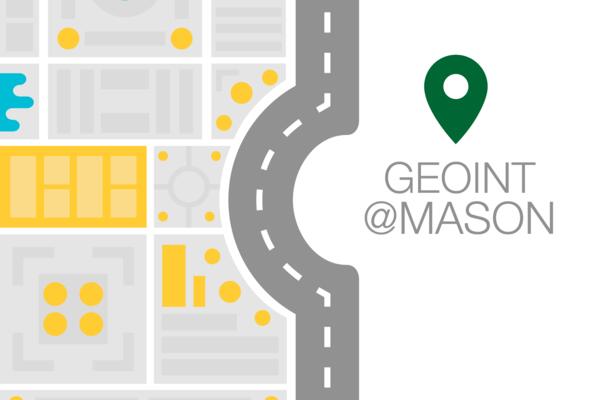 GEOINT at Mason?
Geospatial intelligence (GEOINT) uses a wealth of datasets to describe, assess, and visually depict physical features (both natural and constructed) and human activity. We offer a MS degree in Geoinformatics and Geointelligence anda Graduate certificate in Geospatial Intelligence preparing our students  with the necessary skills to pursue careers in the federal workforce, intelligence community, and beyond.
Skills
Our graduates are successful because they develop the most in-demand skills, gain access to GEOINT leaders in the heart of the GEOINT community that is Northern Virginia. The success of our graduates provides the evidence.
Mason MS and GEOINT Graduate Certificate alumni have ###% jobs
Recent graduates are full-time employed at: NGA, CIA, DOD, USGS, In-Q-Tel,ESRI, Maxar (Digital Globe), Mapbox, Leidos, Booz Allen Hamilton, Deloitte, Fairfax County Government, and many other companies in the DC area.
Jobs
Demand for Geographers and GIS Specialists is surging! 
Specialized skills are Geographic Information System (GIS), Information Systems, Python, SQL, Remote Sensing and Geospatial Intelligence.
Highest salaries in sub-specialization is Security/Defense Intelligence Analyst.
Source: Labor Insight Jobs (Burning Glass Technologies)
Contemporary GEOINT Offering at Mason
Remote sensing with drones
Geocomputation, geospatial data analysis 
GEOINT Design
Data integration strategy and methods
Specializations
Geospatial Data Scientist
Intelligence officer
Analytic Methodologist
GIS Developer
Imagery Analyst
Imagery Scientist
Faculty
The following is a list of faculty performing research in areas related to GEOINT.
Taylor Anderson - agent based modeling, urban science
Arie Croitoru – social media analytics, photogrammetry
Liping Di – machine learning, remote sensing for agriculture, agro informatics
Paul Houser – hydrometeorology, hydro climatology, remote sensing
Timothy F. Leslie- spatial statistics, urban-economic development, health geography
Dieter Pfoser – spatiotemporal databases, routing algorithms, trajectory mining, urban analytics
Edward Oughton - geo information science, statistics and modeling
John Qu – remote sensing, climate and environmental science
Matt Rice – cartography, geospatial crowdsourcing
Donglian Sun – remote sensing, flood mapping and prediction
David Wong – spatial statistics, population geography
Chaowei (Phil) Yang - spatiotemporal Innovation (Big Data, Cloud Computing, Visualization, AI and Analytics) and Physical Sciences (Climate, Planetary Science, Ocean, and Polar Sciences)
Ruixin Yang – scientific data mining, climate changes, hurricane modeling
Konrad Wessels – remote sensing, LiDAR, biomass estimation, terrestrial ecosystem process modelling
Andreas Züfle – machine learning, uncertain data management, urban analytics